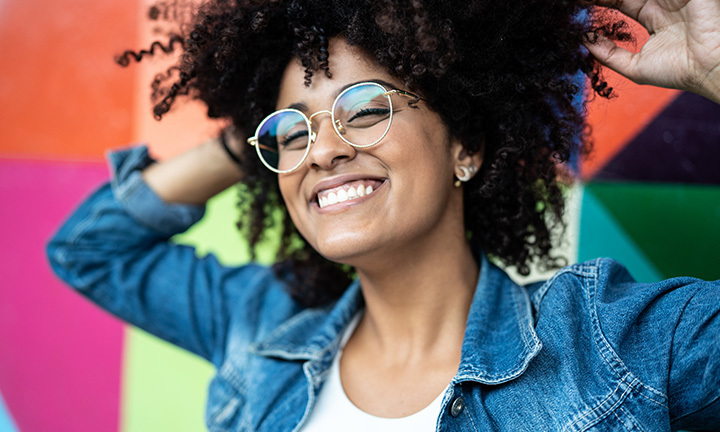 In 2022, update your glasses with inspiration from the latest trends.
Before we dive in, it's good to know that shopping for new eyeglasses is even more affordable if you have VSP vision insurance. Whether you have a new policy or you're renewing coverage for the new year, your benefits may offer the possibility of having your new glasses partially or fully covered. VSP is always here to help you find great vision insurance coverage, as well as keep you on top of the latest styles in eyeglasses. If you'd like to explore frames that are stylish and part of VSP's network, Visionworks is a great source of inspiration, with frame designs to suit everyone.
Let's dive in and see five leading trends that 2022 delivers for eyeglass fashion. Great news: Many of the styles work for all genders, giving you as much stylish freedom as you'd like.
2022 Glasses Trend #1: Clear and Colorful
Just like last year, the 2021 eyeglasses trend to make everything bright and clear is back. Frame styles and shapes can be anything from petite and oval to oversized and geometric. Some frames are completely crystal clear, and some have subtle colors such as blue or grey. No matter which catches your eye, a colorful and translucent frame will hit the fashion mark.
2022 Glasses Trend #2: Retro Cat Eye
Retro is absolutely part of the many eyeglasses trends for 2022. Cat eye frames are just one style that is back with flair and fun. The modern updates include bolder colors and thick plastic frames for some, with slightly updated shapes that hint at the 70s while remaining firmly planted in today. This style definitely leans toward feminine, with some styles adding extra bling appeal with bedazzled finishes, particularly with designer brands. One thing is for sure — cat eye frames add a sense of play to your look. Wear them proudly and you'll be ready for a stylish year.
2022 Glasses Trend #3: Really Round
Step into your artistic self with frames that evoke creativity and fun. Whether you dig the 60s & 70s counter-culture look with simple wire rims or prefer something a bit more modern and bright, perfectly round frames are a thing. Opt for classic wire-rimmed styles, or combine this bold shape with the other modern trends like chunky frames and bright colors to get something that is very 2022.
2022 Glasses Trend #4: 70s Oversized and Square
Put your confidence and personality on display with this trend: big, bold, chunky and utterly stylish. Two major trends have combined their magic to make this look — square lines and oversized frames. The timeless silhouette cues into the 70s retro look while also keeping your look clean and professional. Some frames are translucent plastic, adding a youthful feel, while others go for the clean lines of a metal frame, keeping the focus on your eyes.
2022 Glasses Trend #5: Tortoiseshell
A visual cue you will see everywhere is the use of tortoiseshell pattern across all frame styles in bold new color palettes for modern day. Forget the simple brown-and-gold tones — you can now get tortoiseshell in blues, greens, browns and even purples. The sky's the limit, including frame shapes. Any in-style frame shape is going to see the "torty" touch, from cat-eye frames to the 70s oversized chunky styles.
2022 Glasses Trend That Never Goes Out of Style: YOU
When you feel good, your confidence radiates out and you can't help but look good. That means that even if you are shopping for frames and something makes you smile, it doesn't matter whether it is on-trend or not. Try on lots of styles, from trendy to traditional and everything in between. If you love it, that's what matters.
Get VSP Vision Insurance to Cover 2022 Eyeglass Trends and More
Seeing your world with clear vision is important, no matter how you choose to sharpen your view. Worried about the cost of designer frames? Great news — VSP Individual Vision Plans have generous frame allowances, including designer frames to keep your look on trend.
Is vision insurance worth it? When it comes to total eye health, absolutely. VSP has everything for complete vision health, from frame and lens allowances, discounts for eyewear upgrades, annual eye exams and more. VSP Individual Vision Plans offer great coverage with providers across the country, making it easy to find a location near you to get your style on for 2022.
Your vision. Your way.
Not covered for vision? Get an individual plan, customized for you – including where you want to use it: at the doctor, in a retail location, or even online.