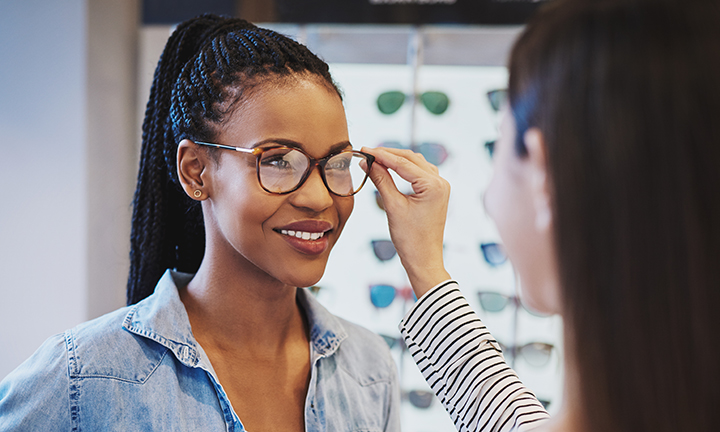 Many people with weak vision rely on traditional glasses to keep their vision in focus and while doing our daily activities. Here are some of the most common eyeglass problems people who wear glasses have and our recommendations for how you can resolve them.
1) Why are my glasses loose or keep slipping off my face?
Oftentimes, eyeglasses slip out of position as a result of worn-out frames, lenses too heavy for the frame they're set in, or a frame that's not properly fitted to your face. Loose or worn eyeglass frames can be tightened and nose pads can be added or adjusted to increase hold. If you're sweating a lot, especially in the sun, wearing a headband can add temple support and friction for heavier glasses. And if all else fails, you can try to replace them with a new, properly fitted pair using your VSP Individual Vision Plan benefit.
2) Why won't my eyeglass lenses darken while I'm driving?
Ultraviolet light activates the tinting mechanism in photochromatic lenses. Since modern car windows block UV rays, many eyeglass lenses won't darken. If putting the top down isn't an option, then having a pair of sunglasses on hand (prescription or some that fit over your lenses) is a great solution if your eyeglass lenses won't darken while you're in your car.
3) Why does the glare on my eyeglass lenses become

s

problematic during the evening hours?
As always, be sure you have the correct prescription as your eyesight can change over time. Adding an anti-reflective (A/R) coating to your eyeglass lenses will help reduce surface and internal lens reflections, especially at night.
4) Why does my vision get wavy when I'm not staring straight through the center of the lenses of my glasses?
The first thing to check is that your eyeglass lenses are clean. But once you've verified that, this can also happen when the lenses are not ground properly or if the optical centers are off slightly. It's a frustrating problem, but one that can be easily checked and corrected by your VSP network doctor's office.
If you're having any other type of problem with your eyeglasses, you'll want to make an appointment with your eye doctor. If you don't have a preferred eye doctor and you have a VSP Individual Vision Plan, you can use our find a doctor tool. If you don't have vision insurance, find out how VSP can help you save on your next eye exam or pair of glasses. No matter how you choose to frame it, always work to keep your vision clear.
Your vision. Your way.
Not covered for vision? Get an individual plan, customized for you – including where you want to use it: at the doctor, in a retail location, or even online.