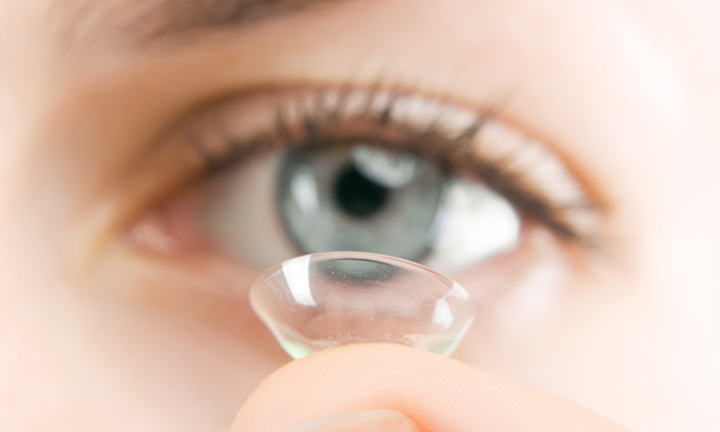 For something so small, contact lenses sure have a big impact on our lives. But even though they're incredibly beneficial and life-saving, they can cause some problems if not used properly.
Here are a few myths about contact lenses to help you understand how to get the most use out of yours:
You can leave your contact lenses in.
This is false. The clear portion on the front of the eye is called the cornea. It has no blood vessels and it gets oxygen from the air. So when a contact is covering it, it's like putting clear plastic wrap over it, which prevents the cornea from getting oxygen. The longer you keep it on without taking it off and giving the cornea a break, the more problems you could have.
It's totally fine to sleep with your contact lenses.
Totally false. If you wear your lenses too long, the top layer of your cornea can break down and you may get a bad cornea infection called an ulcer, which causes scarring of the cornea and even permanent loss of vision. As long as you take them out at night, they are safe to wear for the recommended time on the package.
You should never, never, never rinse your contacts in the sink.
Not true. (But probably not the best thing to do anyway.) You can rinse your contacts in the sink, but don't make a habit of it. Tap water may have bugs in it called acanthamoeba that can cause serious infection. Using your solution is always better.
Your contact lenses can get stuck behind your eye.
This is completely false. There is a membrane that wraps all the way around the inner surface of your eyelid. It's called the conjunctiva. So there is no way that a contact can get behind the eye. There is a condition called conjunctivitis, and it may feel like a contact has slipped behind the eye, but this is only a feeling.
You can be too old to wear contact lenses.
There is no truth to this. Depending on the person, there is no limit to what age you can wear contacts. Some people are in their 80s and have no problems. Typically, people start wearing contacts between the age of 11 and 13.
These are all important truths about contact lenses to keep in mind. If you're considering switching from eyeglasses to contacts, remember that VSP can start you on the path to healthier eyes and clearer vision by helping you save on your eye exam and contact lenses. Check out our vision plan finder for vision plans or call 800.785.0699 and let us help you find the right eye care plan for your needs.
Your vision. Your way.
Not covered for vision? Get an individual plan, customized for you – including where you want to use it: at the doctor, in a retail location, or even online.