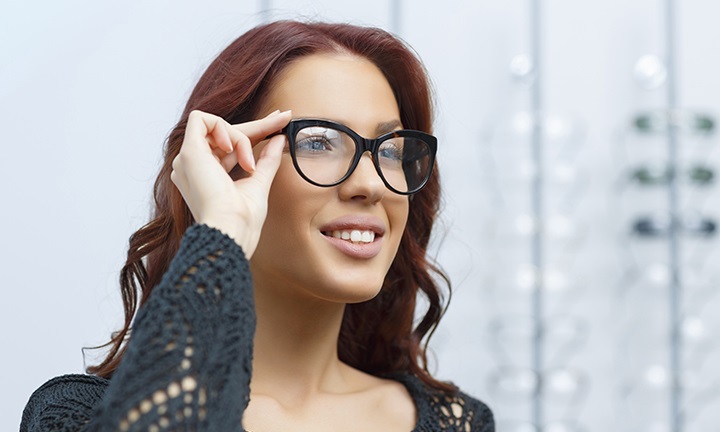 Glasses are an important and often expensive investment, so it's important to keep your eyewear in picture-perfect shape. You probably got a good list of eyeglasses "do's" when you picked up your first pair, but the list of "don'ts" is just as important and avoiding these habits can keep your glasses like new for years to come. Here are six eyeglass care tips to follow:
Don't Dry Wipe Your Glasses
Your eyeglass lenses may have a protective coating, but scratch-resistant doesn't mean scratch-proof! That's why you should never wipe your lenses when they're dry, as surface debris or dust on your cleaning cloth can take its toll.
Don't Use Harsh Cleansers
Bleach, vinegar and window cleaner are all no-goes on eyeglasses. They can damage your lenses and their protective coatings. Instead, try cleaning your glasses with warm water and a drop of dish detergent.
Don't "Spit Shine" Your Glasses
Although a time-tested classic in the movies, it's probably not a good idea to spit on your lenses in real life. Saliva may seem like an easy, go-to cleaning solution, but it can contain oils or other harmful particles that can do damage.
Don't Use Abrasive Cleaning Cloths
Trade in your tissues, paper towels and napkins for a nice microfiber cloth. A napkin (as well as the other aforementioned items) can be rough on your lenses. When looking for a cleaning cloth, just remember keep it smooth!
Don't Place Your Eyeglasses Sink Side
Sink spatter, sprays, and cosmetics can all soil you lenses. Your average bathroom sink is a hub for all that stuff. Try to keep your glasses in a sanitary location when not in use.
Don't Forget to Pack Your Hard-Shell Carrying Case
This might seem like commonsense, but you'd be surprised at how many people throw their eyeglasses unprotected into purses, bags, and backpacks. Get yourself a hard-shell case that's the right size for your eyewear and worry no more.
If you have any questions about eyeglasses, contacts, or have questions about eye problems, we recommend scheduling an eye exam with a VSP network eye doctor. With a VSP Individual Vision Plan, you can save on eye exams, glasses, and more. Learn more about the benefits of a VSP vision insurance plan today!
Your vision. Your way.
Not covered for vision? Get an individual plan, customized for you – including where you want to use it: at the doctor, in a retail location, or even online.