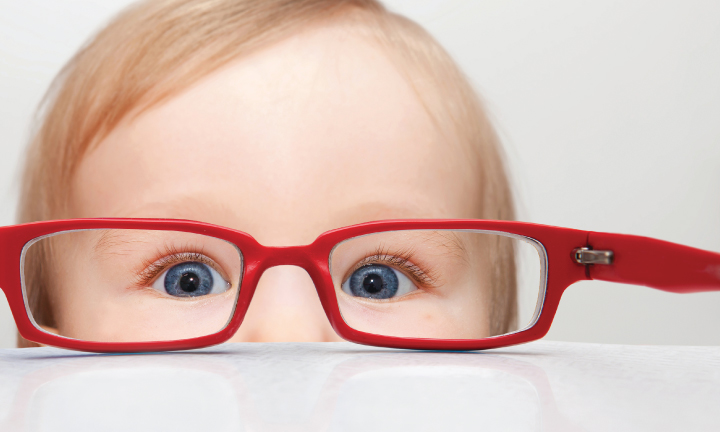 Knowing how to go about your child's eye and visual health is probably not the most obvious part of parenting. And if your child needs glasses, then it becomes even trickier. Thankfully, with a little know-how from this list, tackling your child's vision care is a breeze.
Early detection of vision problems
After your baby is born, their eyes will change and develop dramatically between 0 and 6 months of age. At around the 6-month mark, it is a good idea to have an eye doctor examine your child's eyes to ensure both eyes function properly. Catching problems early will help prevent long-term problems with the eyes.
When's the right age for glasses?
By the age of 3 or 4, your child's eyes will be fully developed. An additional eye exam at this time will determine any vision problems that require correction.
Correcting vision problems as early as possible will prevent your child from having any problems with seeing the board, reading and learning overall in the classroom.
Importance of clear instructions about your child's eyeglasses
You've gotten the eye exam and the prescription, now what? Talk to your eye doctor about the details of the prescription. Will your child have to wear the glasses all the time? Does the prescription require thick lenses? How should the glasses fit on the face? The answers to these questions will determine the specific features of your child's eyewear—and make the trip to the optical shop a little less overwhelming.
Helpful features of modern eyeglasses for children
Durability and fit of your child's new glasses are very important for proper use and longevity. Ask your optician about these child-friendly features:
Adjustable nose pads for proper bridge fit
Spring hinges that hold the frames in place
Impact-resistant lens materials (e.g., polycarbonate and Trivex)
Consider a warranty for first-time wearers
Younger children and toddlers are more likely to damage their first pair of glasses while they get adjusted to them and learn how to take care of them. Ask your optician about a warranty that covers damages and replacement of the frames and lenses. Make certain coverage applies to badly scratched lenses too.
Teaching your child how to clean his or her new glasses
Protecting the lenses from scratches and keeping them clean will ensure your child sees their best. Always using a microfiber cloth designed for lens cleaning is a must. Other cloths and paper towels might scratch the lenses and leave residue. Placing disposable pre-wetted lens cloths in their backpack makes proper cleaning convenient for children.
Properly removing and storing his or her frames
You've just spent a lot of time picking out the perfect frames with your child, now it's time to help protect them with a couple of simple tips. Removing the glasses with both hands will prevent uneven wear on the frames and keep them fitting properly. Have them grip both side arms of the frame and pull them straight off the face.
When the eyeglasses are not being worn, you should instruct your child to always place them inside their case. Having multiple cases in convenient places is helpful. For example, one at school in the desk, one at home in the bedroom and one in the backpack.
Regardless of your child's vision needs, use your VSP Family Plan to have his or her eyes checked. If you don't have vision insurance, find out how VSP can help you save on your next eye exam or pair of glasses.
Your vision. Your way.
Not covered for vision? Get an individual plan, customized for you – including where you want to use it: at the doctor, in a retail location, or even online.