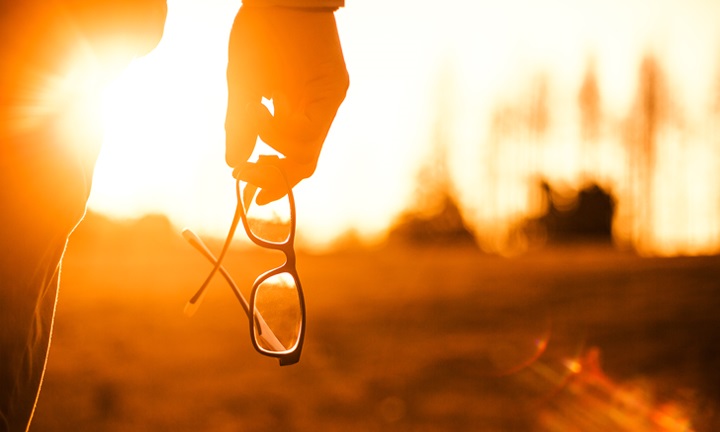 You need glasses and you want to look good. This guide will help.
Enhancing your natural look and flavor
Understanding your face shape
Your face is unique. It brings together any number of interesting shapes and angles that all lead into your most prominent features. But in general, most people's faces are characterized by these four most common face shapes. Determine your shape to find frames that compliment your natural features.
Oval: An oval face has balanced proportions. Choose frames that have symmetry and are wider than the broadest part of the face so you don't throw off the oval's natural balance. Avoid frames that are too big and conceal too much of your face.
Square: A square face is defined by a prominent jawline and a broad forehead. The length and the width of the face are very similar. Choose narrow frame styles with more width than depth. This will help soften angles and make the face appear longer.
Base-up triangle: The top third of the face is wider than the lower two thirds. Frames that are wider at the bottom can help bring more balance to the face. You can also try styles with rimless frames, but in general, avoid frames that are too thick and bulky.
Round: The length and width of a round face are similar and joined by curved lines. Choose angular frames that are wider than they are deep. This will bring balance to the curves and lengthen the look of the face. A clear bridge will also help widen the eyes.
A good rule of thumb is to seek out frames that contrast the features of your face. Face shape can be tricky, but asking yourself basic questions is helpful. Is your face long or wide? Is it round or square? What's your most prominent feature (strong brow, pointed nose, cheekbones, etc.)? Are your features more angular or smooth? Then use your answers as a guide for the best frame characteristics.
Determining your natural color palette
Your complexion falls into one of two categories based on its color base.
Warm: Skin marked by a yellow, bronze, or golden character is considered to be warm.
Cool: Skin with undertones of pink and blue is considered to be cool.
With a warm complexion, choose frames that have a more natural color range—tortoise, gold, brown, honey, and olive. Pastels offer too much of a contrast and might clash with the warm elements of your natural tone.
For a cool complexion, seek out bold, crisp colors that will emphasize the natural colors of your skin—black, silver, blue, ruby, and purple. Lighter hues and patterns might blend with your face too much and wash it out.
Complimenting your personal style
Matching frames with your clothing
Ultimately, you want frames that you like, look good on your face, and you feel comfortable wearing. But if you know your wardrobe is filled with clothing of a specific color, material, or pattern, then it might be worth your time to consider frames that are also agreeable with your other style choices. For example, if you know you wear the same plaid hat almost every day, then you might avoid similarly patterned frames.
Matching frames to your lifestyle and budget
Being more adventurous with your eyewear is easier when you know you'll purchase multiple frames. Some people have a pair for sports, extra flare, special occasions, and everyday life. If you know you'll sport a single pair year-round, then choose a frame that's more balanced and universal. But don't worry, neutral doesn't mean boring.
If you're still unsure about the right frames for you, then visityour VSP eye doctor's office for help picking out the perfect pair. If you don't have vision insurance, find out how VSP can help you save on your next eye exam or pair of glasses.
Your vision. Your way.
Not covered for vision? Get an individual plan, customized for you – including where you want to use it: at the doctor, in a retail location, or even online.