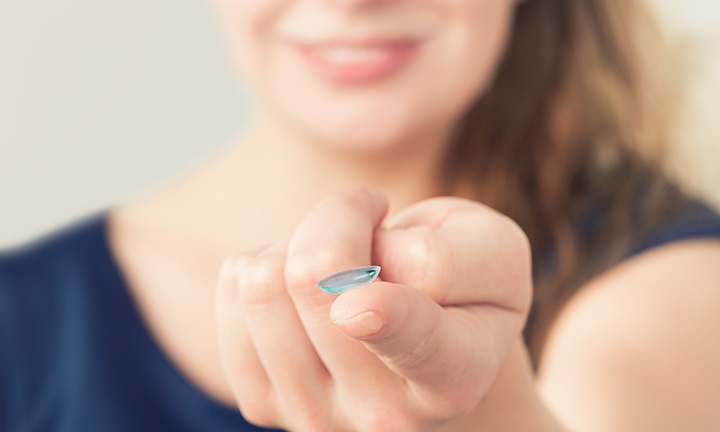 Were you ever curious what you might look like with brown eyes? Blue? Or even cat eyes for a really good costume party? Ready to try it out? Colored contacts are not just for actors in largescale film and theater productions anymore, they're available to everyone. But before you can show off your stylish, new eye color, there's a few things you know.
Defining cosmetic contact lenses
Cosmetic contact lenses are lenses that fit over the surface of your eyes to alter their appearance. They may or may not be vision correcting lenses. They come in a wide variety of natural colors and designs to give a multitude of aesthetic affects.
It is possible to obtain colored lenses without a prescription, but caution is advised. Since using cosmetic lenses provides the same level of risk as vision-correcting contacts, they are considered a medical device and regulated by the Food and Drug Administration (FDA).
Risks involved with wearing cosmetic lenses
When contact lenses of any kind are not properly disinfected or fitted to your eyes, there is an increased chance of damaging your eyes and long-term vision. Potential problems include:
Scratches on the surface of the eye
Allergic reactions
Decreased vision
Infection
Blindness
Never purchase your cosmetic lenses from a source other than an FDA-cleared seller. Although beauty supply stores, costume shops, and flea markets, might provide some fun, interesting lens options, they are risky to use without a prescription from your optometrist.
Symptoms of an eye infection
Even with a prescription, a disinfection schedule, and proper use, an eye infection is still possible with colored lenses. Symptoms include:
Redness or bloodshot eyes
Decrease in vision
Pain that will not go away
Discharge or fluids
When you experience any of these symptoms, take your contacts out immediately and get in contact with your eye doctor. An eye infection can lead to long-term problems, including blindness.
Buying from the right sources to protect your eyes
You only have one set of eyes, so why take any unnecessary risks with them? Seeing an eye doctor and getting an eye exam before using decorative lenses is your best bet. Your eye doctor will assess your eyes, fit the contacts properly, and provide you with a prescription to fill with an FDA-approved source. Additionally, your doctor will give you specific care instructions about how to keep them clean and reduce your risk of infection.
Enjoying the benefits of cosmetic contact lenses—a new, fresh look—is a lot easier when you know your eyes are healthy too.
If you're uncertain about your contacts or are experiencing any discomfort, then use your VSP Individual Plan to schedule an appointment with your eye doctor today. If you don't have vision insurance, find out how VSP can help you save on your next eye exam or pair of contact lenses.
Your vision. Your way.
Not covered for vision? Get an individual plan, customized for you – including where you want to use it: at the doctor, in a retail location, or even online.