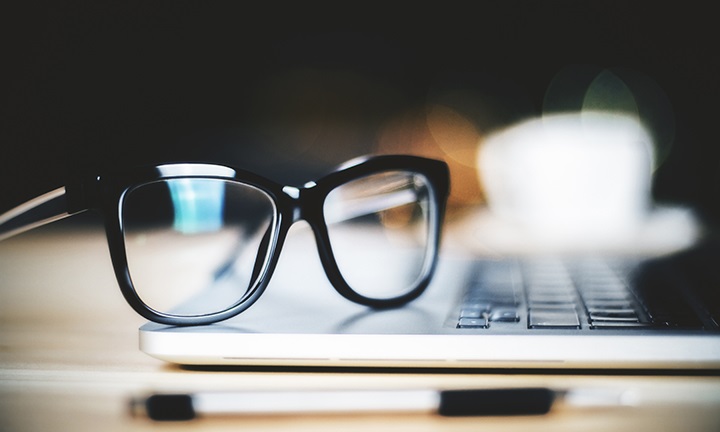 When it Comes to Contacts or Glasses, What's Your Eye-Q? Take This Eye Exam Quiz and Find Out!
Based on your lifestyle, which visual-enhancement accessory suits you best: Glasses or contact lenses? Answer the following questions to find out:
If you have some free time in the afternoon, you …
A. Lace up your basketball shoes for a quick pickup game.
B. Want to appear more studious.
When binge-watching your favorite new TV show, you …
A. Like to lie on your side.
B. Must be completely vertical.
It's a first date. You're at dinner and you forgot your debit card. You …
A. Tend to perspire prematurely.
B. Stay cool under pressure.
You're auditioning for the lead role in a new school play. It's about …
A. Surfers who are bank robbers.
B. A boy wizard.
You need a few more credits to graduate. You opt for …
A. Figure drawing.
B. Wood shop.
The highly anticipated third installment of a popular sci-fi trilogy just came out. It's in 3-D. You …
A. Are first in line.
B. Wait for the DVD to come out.
Your work costume party is coming up. You're planning to go as …
A. A yellow-eyed werewolf.
B. A blue-eyed mad scientist.
You're attending an MMA fight. You …
A. Are one of the fighters.
B. Are taking pictures.
You're at the mall and need a new outfit. You …
A. Feel more like a rocker.
B. Identify as a hipster.
Mostly A's:
You are more of a contact-wearing lifestyler.
Mostly B's:
You are more of a frame-friendly, glasses-wearing stylist.
Knowing what type of vision-enhancing accessory is best for your lifestyle is important to keep in mind. Especially if you are in the market for corrective eyewear. If you're still wondering whether eyeglasses or contact lenses are best for you, remember VSP Direct can help answer any questions you might have and can start you on the path to healthier eyes and clearer vision with an individual vision plan. Check out the vspdirect.com vision plan pricing in your local area or call 800.785.0699 and let us help you find the right eye care plan for your needs.
Your vision. Your way.
Not covered for vision? Get an individual plan, customized for you – including where you want to use it: at the doctor, in a retail location, or even online.