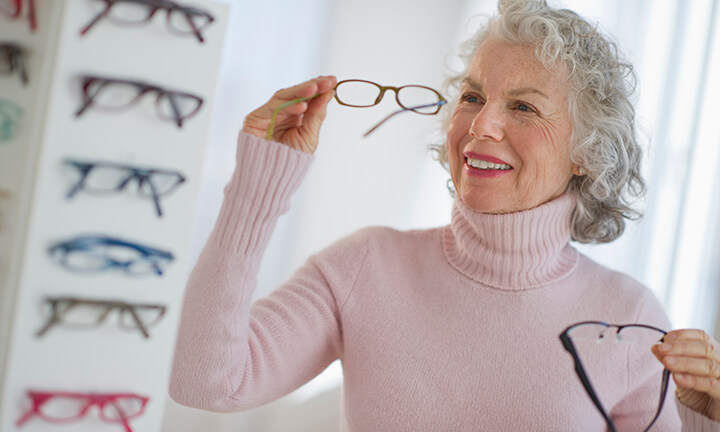 If you're covered by Medicare or soon will be, you probably know most Medicare plans only cover vision and dental emergencies, such as being admitted to a hospital with injuries to your face. Annual eye exams, eyeglasses, dental exams, dental fillings and more are not covered by Original Medicare.
Knowing this, you might already have vision and dental insurance through Medicare Part C, also known as Medicare Advantage. But is Medicare Part C coverage the right fit for your needs? It's possible that individual dental and vision insurance purchased through VSP may provide the coverage you need. To help you make sure you have the best vision insurance and dental coverage, we'll take you through some key considerations.
The Benefits of a VSP Individual Vision Plan
Vision health is so important, especially as we enter retirement age because over time, changes in your vision can show up that affect daily life. The best vision insurance for retirees will make it easy to get annual eye exams with a large network of eye doctors. VSP, for example, has the nation's largest network of optometrists — more than 34,000 providers nationwide — making it very likely that your eye doctor is already in our network or a new provider is conveniently nearby.
Not only do annual eye exams keep your vision correction up-to-date, but also includes screenings for eye problems like cataracts, macular degeneration and glaucoma. Eye exams can also detect signs of high blood pressure and the early signs of diabetes.
A VSP Individual Vision Plan Vision Can Reduce Out of Pocket Expenses.
For those with Medicare who also need vision correction, the best vision insurance will help to cover the cost of eyewear, lens enhancements, or contact lenses — without requiring a large premium. VSP Individual Vision Insurance plans, for example, start as low as just $13 a month.
But even if your prescription hasn't changed, you may want to dabble in new frames and styles to freshen up your look. The best vision insurance can help you reduce the cost of new frames, whatever the reason.
Individual Dental Coverage
Like vision benefits, Medicare does not provide dental benefits except in emergency situations. And many add-on dental plans through Medicare Part C may not cover enough to really save you money for the services you use.
Individual dental insurance through our partner, Guardian, has a variety of plans that save you money on preventative, basic and advanced dental services starting as low as $20 a month in most states. And with more than 114,000 dentists nationwide, it's likely your dentist is already in Guardian's network.
Ready to Find Individual Vision and Dental Insurance Plans for You?
Younger eyes and teeth might have seemed invincible, but our bodies change over time. While some changes are normal, maintaining good habits and getting the right kind of care from professionals is key to long-term health. And the right insurance can help. To get started, visit VSP to find a vision plan that works best for you.

Disclaimer: Check your Medicare Plan to see if your vision care needs are covered. And/or if a VSP Individual Vision Plan is right for you. VSP Vision Care does not coordinate benefits with Medicare.
Your vision. Your way.
Not covered for vision? Get an individual plan, customized for you – including where you want to use it: at the doctor, in a retail location, or even online.