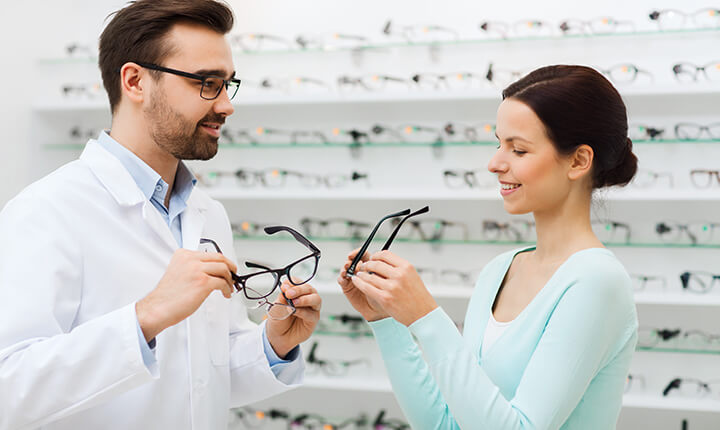 Are you in the market for a new pair of stylish eyeglasses? It's always a perfect time to update your look! And when you choose your new glasses, it feels even better to get a great deal. Maybe you've been eyeing frames from a designer brand. You're in luck because VSP has you covered with a generous frame allowance and frame brand options that run from "hey, nice glasses" to "ooh la la".
What Does VSP Vision Insurance Cover for Glasses and Frames?
We all know that having vision insurance is an important motivation to get your annual eye exam, checking for vision changes or other health issues. Vision insurance from VSP also really saves you money when you're ready to choose a new or updated set of eyeglasses.
Without vision coverage, you pay out of pocket for everything, from your vision exam to the frames to the lenses and more. If you choose vision correction without insurance, the cost of glasses can range anywhere between $8 and $600 for a standard pair. The cost can jump even more when extras like progressive lenses and protective coatings are added.
This is where the vision insurance benefits of VSP come in. The sheer number and range of VSP in-network providers allows you to choose from dozens of brand name With low premiums that include eye exams and a frame allowance, you'll see the value of your vision coverage investment.
Choose the Right Frames for Your Personality and Style
If you have a brand of frames in mind, but still want to know how to pick a style that is right for you, you could use our online frames quiz that will get you started on styles. Or visit a VSP network provider location and start trying on the frames that catch your eye. Sometimes being stylish is more about that grin you get when you catch yourself in the mirror than it is about picking the items that are currently "in style". Find a frame that's supposed to be "all wrong" for your face, but it delights you to wear? That's definitely one worth considering.
Does VSP Cover Brand Name Eyeglass Frames?
You found a great brand name frame. Now you want to know if they'll be affordable and covered by your VSP plan.
First, remember that no matter which frame you choose, VSP plans have an annual frame allowance that can be used for frames at any in-network provider. In addition, VSP offers two tiers of extra bonus allowances for some designer frame brands. Shop brand name frames like Cole Haan, Lacoste, Flexon, Pure, and Salvatore Ferragamo have a larger allowance bonus, while other designer brands have their own extra bonus to increase your frame allowance.
This includes brands like Nike, Paul Smith, DKNY, Nine West, bebe, Liu Jo, Columbia, Calvin Klein, Converse, Spyder, Victoria Beckham, Nautica, and so many more. You can see the full list of glasses frame brands on the VSP website.
Before You Get Your Glasses: Get a New Exam!
Even if you don't think your prescription has changed, and you already have glasses, it's a good idea to update your prescription and check on your eye health each year. VSP's plans allow an annual eye exam with a small copay, so you'll be ready when it's time to order your new glasses.
Ready to Get a VSP Vision Plan?
Maybe you don't yet have a vision plan and you are curious about out how to pay for glasses. You're in the right place with VSP's well-regarded and comprehensive vision insurance coverage. No matter your vision health and eyewear history, we invite you to find a vision insurance plan that works best for you.
Your vision. Your way.
Not covered for vision? Get an individual plan, customized for you – including where you want to use it: at the doctor, in a retail location, or even online.