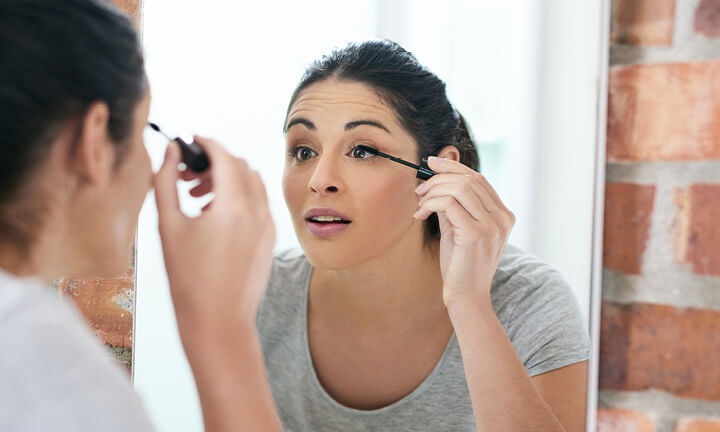 Whether it's for Carnival, Halloween, or just good old-fashioned glamour and beauty, there are lots of options out there to dress up your eyes all year round. Although lengthy lashes and dramatic shades of vermillion and violet will definitely help you stand out, failing to apply them properly might mean the difference between your fresh new style and a fresh new style. Read up on three eye safety tips.
Eye Safety Tip 1: Makeup protocol, for a look that doesn't harm your eyes
All cosmetics run the risk of causing an allergic reaction, spoiling over time, or even becoming contaminated with disease-causing bacteria. To avoid any potential irritation, infections, or damage to your eye health while working hard to look your best, follow these tips from the American Academy of Ophthalmology (AAO):
- Only use makeup designed and tested for use around your eyes
- Do not share eye makeup with friends or family
- Replace eye makeup every three months
- Do not apply makeup in a moving vehicle or with sharp objects
- Wash your hands and face before applying eye makeup
- Remove eye makeup every night before bed
- If you get an eye infection, discard all of your eye makeup
- Abstain from placing eye makeup directly on the lash line
Eye Safety Tip 2: Making contact with colored lenses
When it comes to using colored and decorative contacts, it is important to remember one thing: colored contacts are considered to be medical devices by the FDA. As such, you will require a prescription from an ophthalmologist, even if you do not usually require a prescription for vision correction.
This is for good reason. Contact lenses should securely rest atop your eyes' corneas with a thin layer of lubrication between them. Their shape and size should be precisely matched to your eyes. Improperly fitted contact lenses can scratch and damage your eyes, leading to a number of potential vision problems, including blindness in some very rare cases.
Additionally, if the contact lenses are not properly cleaned before placing them in your eyes, you will run the risk of getting an infection. That is why, to keep your eyes safe, you should never purchase contacts over the counter or borrow them from a friend or family member. Don't risk your eye health.
Eye Safety Tip 3: Enhanced eyelashes and safety
Attaching eyelash extensions or a full-blown set of fake lashes to your eyes is a delicate task. One that should be done lightly, but not taken lightly. If not applied carefully, the glues involved could cause an allergic reaction and may also block the glands that secrete moisturizing oils onto the surface of your eyes. When these glands become blocked, this can lead to infections, styles, and chalazia (temporary lumps or cysts that form in the eyelid).
With more and more products arriving on the market every day, including magnetic eyelashes and volume-increasing lash serums, it's best to only use FDA-approved products and have your lash work done by a professional. If you must apply the lashes yourself, do so carefully and in close coordination with the product instructions. Should you have a reaction, stop using the product right away and contact your eye doctor.
By taking a few of these eye safety precautions into consideration, you will put yourself in a position to emphasize the natural beauty of your eyes—or even exaggerate their supernatural overtones (if that's what you're going for)—without ever putting them in harm's way.
If you don't have vision insurance, find out how VSP Individual Vision Plans can help you save on contacts or a pair of eyeglasses. To discover the best vision insurance, you don't need to look further than VSP.
Information received through VSP Vision Care's social media channels is for informational purposes only and does not constitute medical advice, medical recommendations, diagnosis or treatment. Always seek the advice of your physician or other qualified health provider with any questions you may have regarding a medical condition.
Your vision. Your way.
Not covered for vision? Get an individual plan, customized for you – including where you want to use it: at the doctor, in a retail location, or even online.