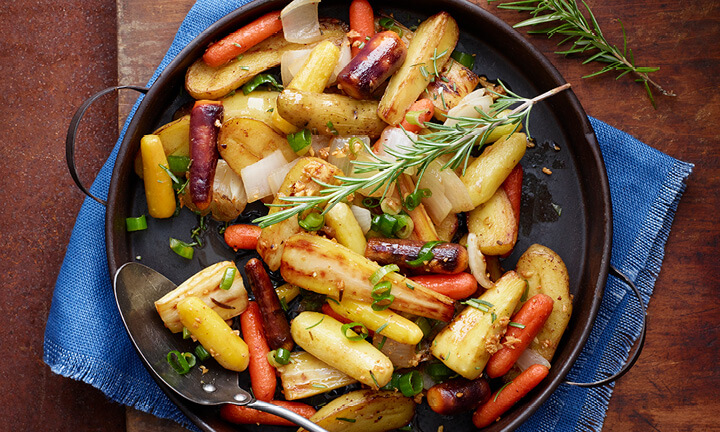 Thanksgiving is right around the corner and this year there is no need to let the poetic overindulgence get in the way of your eye health. Believe it or not, many of your Thanksgiving favorites, from the green beans, all the way down to the pumpkin pie, contain healthy levels of vitamins and micronutrients that actually boost your vision and overall eye health. So much so, you may find yourself saying, "Why yes, I will have a second piece, please," a couple times over throughout the celebration.
Something to be thankful for: vitamins and micronutrients which may help protect your eyesight
Dietary antioxidant vitamins and minerals: Light entering your eye transmits images to your retinas that make it possible for you to see. Nevertheless, that same sunlight creates an environment of oxidative stress, which leads to the release of free radicals. In the absence of vitamins A, C, and E, as well as the mineral zinc, free radicals damage the tissues at the back of the eye. Over time, this cumulative damage can affect the macula, the part of the retina responsible for central vision, and lead to age-related macular degeneration (AMD). Zinc, along with these vitamins, combine with free radicals in the eye to consistently eliminate their damaging effects.
Foods with vitamin A: Carrots, squash, sweet potatoes, broccoli, cantaloupes, leafy greens, apricots, mangos, red peppers, egg yolks
Foods with vitamin C: Oranges, lemons, limes, grapefruits, broccoli, Brussels sprouts, potatoes, sweet potatoes, red peppers, strawberries, kiwis
Foods with vitamin E: Pumpkins, avocados, mangos, asparagus, red peppers, spinach, collard greens, peanut butter/peanuts, almonds, sunflower seeds, wheat germ
Foods with zinc: Oysters, chicken, whole grains, chickpeas and other beans, nuts, yogurt, crab, lobster
Omega-3 fatty acids: Within many foods we eat, there are substances that cause inflammation throughout the body. This inflammation can be a risk factor for a number of chronic illnesses and conditions, to include AMD in your eyes. Therefore, seeking out dietary choices that avoid these substances, or even by including foods with anti-inflammatory substances, may help decrease your chances of developing this disease. Omega-3 fatty acids not only have a chemical structure that has antioxidative properties, but they may also reduce inflammation in the eyes.
Foods with omega 3: Walnuts, chia seeds, flaxseed, sardines, herring, salmon, tuna, flaxseed oil, soybean oil
Lutein and zeaxanthin: Two naturally occurring carotenoids in many vegetables and other plants, lutein and zeaxanthin prevent damage to plants from overexposure to sunlight, by absorbing excessive energy. These two micronutrients also have antioxidant properties, appearing in high concentrations in your retinas and quickly absorbing any free radicals formed from radiative sunlight. It has been shown that lutein and zeaxanthin, among other things, can help prevent AMD, by blocking the damaging blue light from reaching the sensitive lower layers of the retinas.
Foods with lutein and zeaxanthin: Kale, spinach, collard greens, peas, squash, egg yolks, beets, tomatoes, corn, nuts, broccoli, Brussels sprouts, romaine lettuce, oranges
Packing your Thanksgiving meal with a cornucopia of foods good for eye health
You have probably already noticed, but a lot of the foods listed above already make noteworthy appearances on your (beautifully set, might we add) Thanksgiving Day table. So in a certain sense, you don't have your work cut out for you—well, other than the effort required to roast the turkey, prepare three or four side dishes, and get your kids to pick up the house. Even still, if you're interested in upping the ante on your vision-enhancing ingredients, try out the following ideas.
Just go nuts! Adding nuts and seeds to any number of traditional dishes is an easy way to help the eye health of your family. For example, if you traditionally have ambrosia salad for Thanksgiving, add a 1/4 cup of chia seeds and half a cup of chopped walnuts to the mixture before chilling it. Both will provide the salad with a satisfying texture while helping to bind all the ingredients. You can also add sliced almonds to your turkey's stuffing, dress your green salad with flaxseed oil, or simply stick to your classic pecan pie recipe.
Alcoholic (or virgin) punch. Looking to load up on vitamin C, but don't wish to miss out on a little holiday fun? There are hundreds of autumn and winter whiskey punch, sangria, and mulled wine recipes available online. Not only are they bound to be a hit, but they are oftentimes very easy to prepare and filled with, you guessed it, lots of vitamin C-rich citrus fruits. Great for any Thanksgiving celebration.
Make a big salad. Not everyone likes to include a typical green salad in their turkey day, but it's really a very simple way to sneak in a full sleuth of foods good for eye health. Use a medley of greens, the crown jewels of eye health, and then throw in some beans, corn, and beets, and finally, concoct your dressing from a healthy vegetable oil and a fresh autumn fruit. Voila! Your eyes will be salivating—or are those simply tears of joy?
Try out a new side dish altogether. All of your traditions had to start somewhere at some point in time, right? So why not this year introduce a side dish that you've never attempted to make before? We love to oven roasted Brussels sprouts coated in a mixture of spicy mustard, honey, and bacon bits. There are also other wonderful recipes with butternut squash that include nuts, cranberries, and apricots, or even multiple variations of broccoli casserole. Whatever you choose, find one with at least 3-4 foods from the lists above. Then you (and your eyes) are sure to enjoy your culinary adventure.
Taking a moment to thank you
From the irresistible smells wafting from the kitchen, to the unforgettable moments with family and friends over a magnificent meal, Thanksgiving always manages to warm each and every one of us deep inside. This year we're thankful for all of our faithful members and for the opportunity to continually serve you as your vision insurance provider. Thank you for your business. Enjoy the time with those you care about.
As we near the end of the year, you may still have time to check your eye health with your eye doctor. Vision insurance can help cover those costs! If you don't have vision insurance, find out how VSP Individual Vision Plans can help you save on your next eye exam or pair of glasses.
Your vision. Your way.
Not covered for vision? Get an individual plan, customized for you – including where you want to use it: at the doctor, in a retail location, or even online.