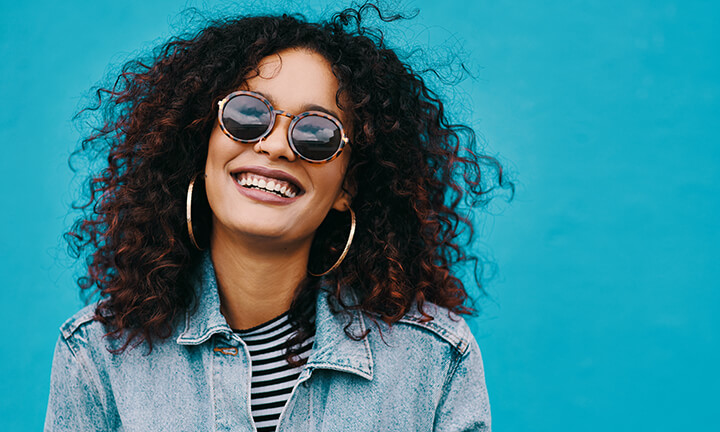 It's UV Awareness Month, so let's make sure to take care of our eye health. We'll go over some great tips to keep your eyes protected.
Summer Eye Health Tip #1: UV-blocking Lenses
Wear eyeglasses or sunglasses with UV protection, and wear them any time you go outside. Both are important, as your eyes can receive UV exposure anytime the sun is out, not just in the middle of the day. Some UV light penetrates cloud cover as well. According to the American Cancer Society, "UV-blocking sunglasses are important for protecting the delicate skin around the eyes, as well as the eyes themselves. Research has shown that long hours in the sun without protecting your eyes increase your chances of developing certain eye diseases."
Some prescription eyeglasses (and even contacts) have a UV protective treatment — make sure this is true for your lenses if you wear yours during the day. Remember that small eyeglass frames do not cover as many angles as face-hugging ones and, of course, contact lenses with UV protection only cover a small fraction of the surface of your eye. Sunglasses with large lenses or a wrap-around shape are a good choice for more protection.
Many sunglasses offer UV protection, but verify before you buy that they block 99% to 100% of UVA and UVB rays. The label might also say "UV absorption up to 400 nm" or "Meets ANSI UV Requirements" and that indicates at least 99% UV blocking as well. Sunglasses labeled as "cosmetic" block only about 70% of UV rays, and no label means you cannot assume any level of UV protection.
Darker lenses do not offer higher protection — it is the UV treatment that does the work, not the tint. If you need sun protection for kids, make sure their sunglasses have full protection as well. No matter how fun they can be, some "toy" sunglasses offer no UV protection!
Summer Eye Health Tip #2: Hats Protect Your Eyes and so Much More
Summertime is a fabulous time to up your hat game. Embrace the big, floppy sun hat, the desert trekker type with a neck covering, or even a bucket hat with a generous brim. In fabrics, the designation for protection is UPF (ultraviolet protection factor) rather than SPF (sun protection factor) seen on sunscreen lotions. What kind of hat should you get? It's really up to your own personality and needs. A darker underbrim helps keep glare down, and vents can assist in keeping your head cool on really hot days.
No matter which style or brand you choose, it's better to steer away from loose mesh construction in your hat, whether that's the back of a trucker hat or the open-weave straw on a casual hat. The more solid the material, the less chance the sun has to sneak through. Many companies offer tested UPF 50+ hats so you know you'll be covered.
Another benefit of hats is that you're protecting so much more than your eyes! You'll be helping to protect delicate skin on and around your head: your ears, neck and much of your face.
Summer Eye Health Tip #3: Seek Shadow-based Shade When Possible
When the sun is bright, a shadow cast by a solid object is your friend. Clouds might seem "shady" but clouds are nothing more than a thin veil between you and the sun's rays, blocking far less UV than you might think (and how much the clouds block can vary dramatically). Some studies even show that certain cloud conditions increase UV exposure! On the other hand, the shadow of a building, an awning, or even a leafy tree helps by physically blocking you from direct sunlight. Plus, hanging out under a tree offers a nice holistic benefit of just feeling good being in nature.
Umbrellas can be a good choice for blocking the sun, especially those designed for sunny days. While you may only reach for an umbrella if rain is on the way, know that a UV-blocking umbrella or one with a dark and heavy fabric can give you some much-needed, instant shade on a sunny day.
Summer Eye Health Tip #4: Watch Out for "Sneaky Sun"
There are a few other ways worth mentioning that your eyes can be exposed to UV light. First, tanning beds can have high levels of UV, no matter how often you use them. Always wear those little goggles. If you spend time near water or other highly reflective surfaces, you could get sun exposure from reflections like light surfaces, water and snow. In those cases, it's a good idea to wear sunglasses and apply sunscreen to your face, even if you're wearing a hat. Finally, summer eye health includes protection from UV, but it also means being careful during sports and around fireworks. We all want to be able to see those gorgeous sights as long as we can!
Eye Health in the Summer and All Year Long
Summer is here and if you're ready to keep your eye health in clear view, we can help. No matter the season, VSP has you covered with vision insurance options for nearly everyone. Enroll online today, and start by finding the right vision insurance plan for you.
Information received through VSP Vision Care's social media channels is for informational purposes only and does not constitute medical advice, medical recommendations, diagnosis, or treatment. Always seek the advice of your physician or other qualified health provider with any questions you may have regarding a medical condition.
Your vision. Your way.
Not covered for vision? Get an individual plan, customized for you – including where you want to use it: at the doctor, in a retail location, or even online.