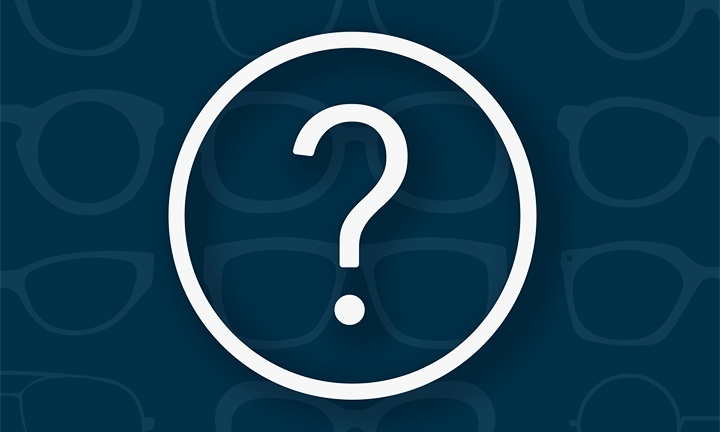 Buying a new pair of eyeglasses can be a daunting task. Knowing which types of frames best suit your look before visiting an eye doctor can narrow down your options considerably! So once you've had had your vision checked and know your prescription, follow these rules of thumb to find the perfect frames for you.
Choosing by Face Shape
Whether you've got a larger forehead, jaw line, or cheeks, there's a right pair for you. Eyeglass frames can help balance your features if used properly but could exaggerate them if not. Everyone has a different face shape, but most faces can be grouped in one of the following six types:
Round: lengthen your face with rectangular, angular frames. A clear bridge helps widen the eyes as well. Avoid rimless frames, round frames, and small frames.
Oval: this type of face shape is considerably balanced as it is, so most frame shapes could work well. Eyeglass frames that are as wide as the broadest part of your face will help keep your natural balance. Avoid glasses that cover up the majority of your face.
Square: soften your natural angles with frames that have more width than depth. Circular, aviator, and narrow ovals work well. Avoid boxy frames or angles that make the face feel bulky.
Oblong: to make your long face appear shorter, try frames that are taller than they are wide. Decorative temples also add width to the face, and low bridges shorten the nose.
Base-up triangle (heart): frames with wider bottoms than tops or rimless frames in light colors will help balance the width at the top of the face. Avoid styles and colors that instead draw the eye to the forehead, such as decorative temples or embellished tops.
Base-down triangle: frames with wider tops than bottoms, colored frames, and semi-rimless frames will help add width and emphasize the narrow forehead. Cat-eye shapes might be particularly appealing for this face shape.
Choosing by Frames
If you're unsure of your face shape, it might be easier to decide on your perfect eyeglasses the other way around. Full-rim frames highlight the eyes, whereas rimless frames deemphasize your forehead and don't grab as much attention. Semi-rimless frames accentuate the top half of your face.
Colors should complement, not contrast, your skin coloring (and, if you're really picky, maybe even your eyes and hair, too). Warm skin tones go best with beige, gold, bright red and blond tortoise frames. Cool skin tones work well with black, silver, deep red, blue, and darker tortoise frames.
Whether you're shopping for your first pair or are looking for specs you can wear on the weekend, eyeglasses can get expensive. VSP offers individual vision insurance plans that can help cut back those costs. Check out this site to find the best vision plan for you and your family.
Your vision. Your way.
Not covered for vision? Get an individual plan, customized for you – including where you want to use it: at the doctor, in a retail location, or even online.