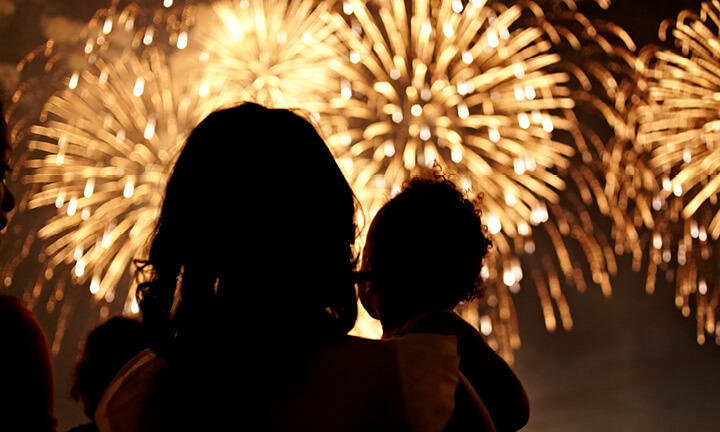 The approach of summer signals the time of celebration, and that often includes enjoying the sights of colorful and vibrant fireworks. But fireworks cause more mayhem than you might imagine — nearly 10,000 injuries each year require a visit to the emergency room, as well as 12 deaths in 2019, reported by the U.S. Consumer Product Safety Commission1. Of those injuries, 15% affected the eyes and another 16% the head, face and ears.
Now that you know the stakes, let's look at some ways you can keep your eyes safe while enjoying the fireworks at any celebration.
Fireworks Safety 101: two simple tips for the holiday.
There are two simple things you can do to keep you and your family safe around fireworks:
Never allow children to play with, be around, or light fireworks. Ever.
Let the experts do their magic: Watch professionally organized fireworks instead of buying and lighting your own fireworks. (It's cheaper too!)
Keep yourself safe around your own fireworks.
If you will be purchasing fireworks and lighting them this year, there are a few tips that will help keep everyone as safe as possible and help avoid injuries.
Make sure fireworks are legal in your area before you buy or use them.
Keep a bucket full of water or a garden hose handy before you start.
Light fireworks ONE at a time and move back quickly.
Never pick up fireworks that did not light or attempt to re-light them. This tip alone could help prevent many injuries, as "dud" fireworks could turn out to be very active just at the moment you don't anticipate.
Keep the sparkles in the sky, not in your eyes.
Whether you are watching fireworks or lighting them, a few basic eye safety tips will help protect your eyes. (Bonus tip: Wear sunglasses if you will be out all day leading up to the fireworks. Your eyes can get sunburned, and no one wants to cut the day's fun short.)
Wear eye protection. Shooting sparks from even small fireworks can easily injure your eyes, and falling debris from large fireworks can be a risk, especially when you're looking up at the sky. Even sparklers — which seem relatively safe — burn at nearly 2,000 degrees2, enough to melt some metals!
In the case of an eye injury from fireworks, it is important to take action quickly. Fireworks-related eye injuries can combine impact trauma, burns, and chemical exposure2. Seek medical attention immediately. In the meantime, do not rub your eyes, apply pressure, rinse your eyes, or try to remove anything stuck in your eyes.
In times of celebration, we want you to enjoy all of the festivities while staying happy and healthy!
Protect your eye health year-round.
From summer to spring and all year-round, VSP has your vision covered with eye insurance options for nearly everyone. Enroll online today and start by finding the right vision insurance plan for you. It's time to protect your eyes for a healthy future.
Information received through VSP Vision Care's social media channels is for informational purposes only and does not constitute medical advice, medical recommendations, diagnosis, or treatment. Always seek the advice of your physician or other qualified health provider with any questions you may have regarding a medical condition.
Your vision. Your way.
Not covered for vision? Get an individual plan, customized for you – including where you want to use it: at the doctor, in a retail location, or even online.