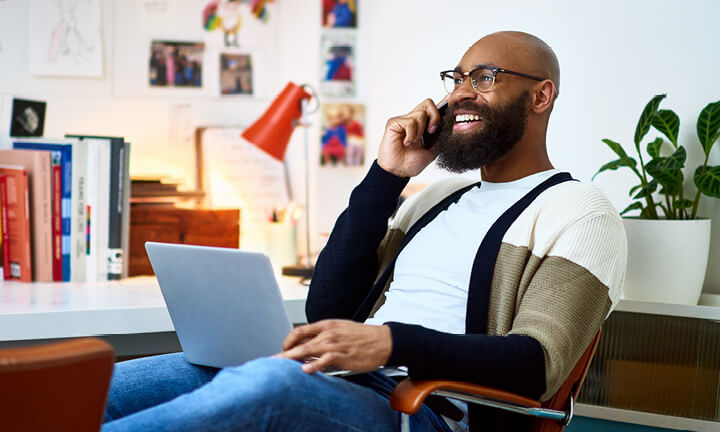 Self-employment can feel empowering, full of excitement and growth potential. But there's also administrative "fun" required of freelancers, gig workers, and solopreneurs—including management of all of those behind-the-scenes details that a full-time employer traditionally handles. Details like insurance, FICA taxes, disability coverage, sick time, and more. Now, it is on you to take care of your physical and financial health. Here at VSP we believe in access to affordable vision care, and we can help you find the right plan for your needs.
Why Do Freelancers Need Vision Insurance?
Most self-employed individuals know the importance of having basic health insurance, and start with that. But sometimes the "add-ons" like dental or vision insurance don't seem as important, or something that can be delayed. Not so. Detecting glaucoma and cataracts early can help save your vision from catastrophic decline.
But as we laid out in a previous post about needing insurance when you're self-employed, routine vision services can add up. Below are some updated estimated costs for the most common services provide by optometrists:
| | | |
| --- | --- | --- |
| Example Savings* | Out of Pocket Cost without Vision Insurance | Out of Pocket Costs with VSP Individual Vision Plan |
| Comprehensive eye exam | $181 | $15 (copay) |
| Eyeglass frames | $216 | $53 |
| Eyeglass lenses | $98 | $25 (copay) |
| Total | $300 | $93 |
*Comparison based on national averages for comprehensive eye exams and most commonly purchased brands. This chart represents a typical savings for VSP members.
Savings vs. Benefits and Access to Care
You want to balance benefits and costs. Luckily, it's simple to get started by asking yourself just a few questions. First, do you have upcoming likely expenses, such as new glasses or contact lenses? New frames and lenses often start above $200, so having coverage for your glasses can save you an average of $270 on out-of-pocket expenses a year when you include lens enhancements and exams.
Next, consider if there is a particular eye doctor you'd like to see, or if you'd like to find someone new and close by. VSP has one of the largest networks in the country, so you're likely to find your eye doctor is in-network.
Finally, don't forget about the fantastic extra goodies we have added to VSP vision coverage. Choosing a VSP Premier Program location means you'll have access to advanced eye exam technology, plus VSP bonus offers and rebates on purchases. Separately, Exclusive Member Extras offer additional savings on select brands, and you'll get an extra $20 to spend on top of your frame allowance when you choose a VSP network eye doctor.
Ready to find the best vision insurance for you? Find a VSP Individual vision plan starting at $13 a month.
Use Your Vision Insurance to See Your Future Clearly
Once you have vision insurance, make sure you take advantage of this opportunity to care for your vision. We have some simple steps to get started using your vision insurance benefits, including when to get exams and how to use your frame allowance. This can be especially helpful since many solopreneurs are in front of a computer for at least part of the day and there are ways to use your vision insurance to combat eye strain when using digital screens.
We hope you see clearly just how important finding the best vision insurance can be to your bottom line and your eye health. We have more information if you'd like to learn more about vision insurance for freelancers, gig economy workers, and solopreneurs on our website.
Your vision. Your way.
Not covered for vision? Get an individual plan, customized for you – including where you want to use it: at the doctor, in a retail location, or even online.