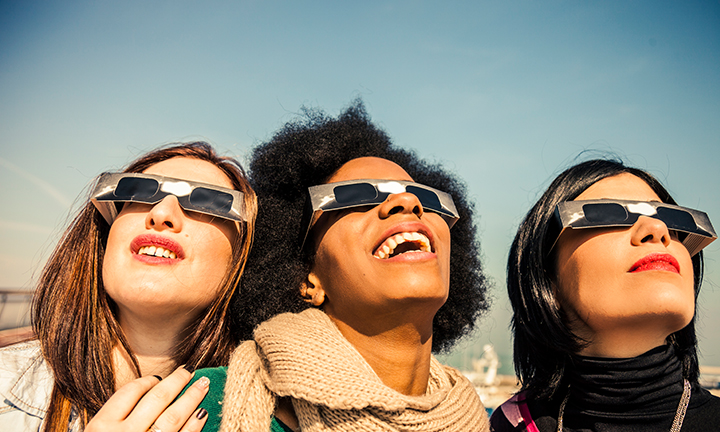 Do you remember the world's last total solar eclipse in August 2017? Millions of people observed the eclipse as it passed over parts of the United States. Why did so many people flock to certain parts of the United States to witness this astronomical feat? Because a total solar eclipse is a rare event. Before the August 2017 solar eclipse, it had been 38 years since a total solar eclipse was visible from North America.
The next total solar eclipse will happen on July 2, 2019. Unlike the August 2017 solar eclipse, the July 2019 total solar eclipse can only be seen by those who are in Chile and Argentina. According to an online article from VOA News, "Local officials say they expect more than 400,000 visitors to come to the area."
Why Is Seeing a Total Solar Eclipse So Important to People?
A total solar eclipse is rare and lasts only a few minutes. NASA estimates that the sun will be eclipsed by the moon for as long as four minutes and 33 seconds. The European Southern Observatory estimates that most areas on earth sees just one solar eclipse, on average, every 360 years. However, lucky for many North American areas, another chance to see a total solar eclipse will be on April 8, 2024.
How Can I Safely View a Solar Eclipse?
Although the total eclipse won't be visible from the United States in July 2019, we wanted to share a few tips that provided. You can keep these tips in mind as you prepare for the April 2024 eclipse:
"The only safe way to look directly at the uneclipsed or partially eclipsed sun is through special-purpose solar filters, such as "eclipse glasses" or hand-held solar viewers. Homemade filters or ordinary sunglasses, even very dark ones, are not safe for looking at the sun; they transmit thousands of times too much sunlight. Refer to the American Astronomical Society (AAS) Reputable Vendors of Solar Filters & Viewers page for a list of manufacturers and authorized dealers of eclipse glasses and handheld solar viewers verified to be compliant with the ISO 12312-2 international safety standard for such products.
Always inspect your solar filter before use; if scratched or damaged, discard it. Read and follow any instructions printed on or packaged with the filter.
Always supervise children using solar filters.
Stand still and cover your eyes with your eclipse glasses or solar viewer before looking up at the bright sun. After looking at the sun, turn away and remove your filter — do not remove it while looking at the sun.
Do not look at the uneclipsed or partially eclipsed sun through an unfiltered camera, telescope, binoculars, or other optical device.
Similarly, do not look at the sun through a camera, a telescope, binoculars, or any other optical device while using your eclipse glasses or hand-held solar viewer — the concentrated solar rays will damage the filter and enter your eye(s), causing serious injury.
Seek expert advice from an astronomer before using a solar filter with a camera, a telescope, binoculars, or any other optical device. Note that solar filters must be attached to the front of any telescope, binoculars, camera lens, or other optics.
If you are within the path of totality, remove your solar filter only when the moon completely covers the sun's bright face and it suddenly gets quite dark. Experience totality, then, as soon as the bright sun begins to reappear, replace your solar viewer to look at the remaining partial phases.
Outside the path of totality, you must always use a safe solar filter to view the sun directly.
If you normally wear eyeglasses, keep them on. Put your eclipse glasses on over them or hold your handheld viewer in front of them.
Note: If your eclipse glasses or viewers are compliant with the ISO 12312-2 safety standard, you may look at the uneclipsed or partially eclipsed Sun through them for as long as you wish. Furthermore, if the filters aren't scratched, punctured, or torn, you may reuse them indefinitely."
We hope these safety tips give you ideas on what you'll need for the April 2024 eclipse or the July 2019 eclipse, if you are lucky enough to get to witness it.
Sources:
https://www.eso.org/public/
https://eclipse2017.nasa.gov/safety
https://eclipse.aas.org/resources/solar-filters
Your vision. Your way.
Not covered for vision? Get an individual plan, customized for you – including where you want to use it: at the doctor, in a retail location, or even online.