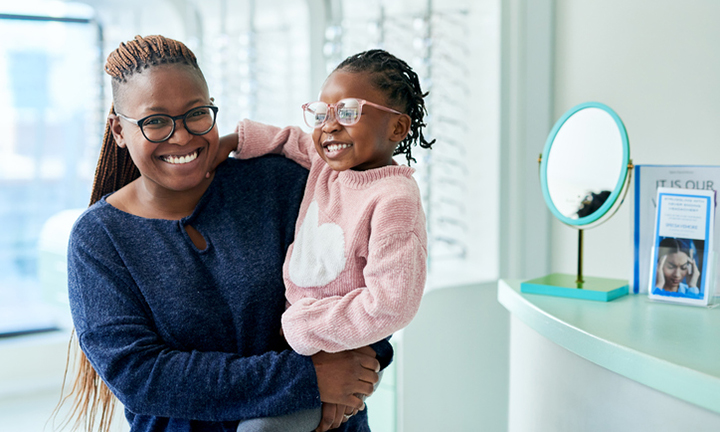 Any parent can tell you that kids grow quickly, which is why it's important to monitor all aspects of their health consistently. One way to do this is by using a vision insurance plan that supports the evolving eye and overall health needs of your children. In this blog, we'll be exploring vision insurance for children in more detail as we help parents like you make great coverage choices.
Do kids need vision insurance?
Vision insurance provides financial assistance to help cover routine exam costs and corrective lenses or contacts if needed. Families with children who have vision health needs can save on out-of-pocket expenses related to vision care.
Traditional medical insurance typically only covers vision issues that are deemed medical in nature, such as an injury or infection, although specifics can vary by plan and carrier. Medicaid's Children's Health Insurance Program, or CHIP, offers vision coverage in some states to those who qualify. However, vision-focused plans are designed specifically to cover exam costs and corrective eyewear purchases.
How does vision insurance help with eye care costs?
Vision insurance plans offer focused coverage for eye-related concerns. Additionally, vision insurance helps pay for high-quality prescription lenses and frames. Having vision insurance helps make vision care more affordable, and there are plans to fit all budgets. Learn more about VSP vision plan benefits and savings you can enjoy.
Why is vision care important for children?
The National Center for Children's Vision and Eye Health reports that as many as 1 in 5 preschool-aged children have undiagnosed vision issues. Yearly vision exams monitor your child's eyes and help determine if eyesight changes occur, and they also determine if your child has other eye-related medical issues. Additionally, the World Health Organization reports that almost half of near or distance vision impairment issues could have been prevented if diagnosed early.
What are common childhood eye problems?
There are a number of common childhood eye diseases and conditions. Vision issues may include nearsightedness (myopia), farsightedness (hyperopia) and astigmatisms which contribute to blurred vision. Common eye infections include conjunctivitis, or "pinkeye," and styes. All of these can be treated by eye doctors. To learn more about these conditions, check out this post that explores common eye problems in children.
How can poor vision impact kids?
Undiagnosed or untreated vision issues can have a serious and lifelong impact on your child. Poor eyesight can slow childhood development and learning capabilities. Early eye issue detection, diagnosis and treatment can help children now and throughout their lives.
Did you know that vision is a strong indicator of future academic performance? Children with untreated visual needs often struggle with schoolwork, which negatively impacts classroom performance. When children receive the glasses they need, it is clinically proven to significantly improve test scores and reading comprehension which helps your child succeed at school.
What does vision insurance coverage for children look like?
The most important part of maintaining vision health is having annual eye exams. A comprehensive exam is recommended around your child's first birthday to look for early eye problems, especially if a family history of eye issues is present. If not diagnosed with early eye issues, your child will then begin annual exams around the time they begin attending school. If they do receive an early diagnosis, future visits with your doctor will depend on your child's eye health and treatment needs.
During vision exams, your doctor will perform a series of tests. These are used to determine vision impairments by performing a vision screening, evaluating overall eye health and establishing if your child has an astigmatism (which is when the eye is not perfectly round) that could be contributing to their vision concerns. Once the exam is complete, your child's doctor will be able to determine if corrective lenses or other treatments will be needed. Need help finding a pediatric eye doctor? Click here to find a VSP doctor near you.
Down Syndrome and Vision Care
Vision care is one area where children with Down syndrome may need a little extra help. Approximately 70% of people with Down syndrome will face some form of eye issue during their lifetime; early-onset glaucoma and refractive errors are among the most common issues. Your child's eye doctor will be able to help you make a care plan for vision development and eye health by monitoring signs of glaucoma or selecting special frame types available for those for whom traditional frames may not fit.
Children's Glasses and Vision Insurance
If your child needs glasses, you don't have to worry about them being the unattractive and bulky versions of the past. Today's children's glasses come in a variety of fun frame types and colors designed with kids in mind. Useful features like scratch-resistant lenses and flexible metal frames are available for children prone to breaking things, and they even make special wraparound frames for infants and toddlers. At your appointment, your eye doctor and their team will be able to help your kids feel comfortable and stylish in their new shades.
If your child needs corrective lenses, you may worry about affording them. That's why many vision insurance plans help you cover the cost of glasses or contacts. Most VSP vision plans have corrective lens allowances included to help cover the costs of glasses or contact lenses for everyone on your plan.
The Importance of Vision Insurance
Vision care is important at all ages, but children need extra attention as their eyes develop. From vision issues to maintaining overall eye health, it's important to include vision coverage for the whole family. Vision insurance plans offer coverage for those important yearly examinations and assistance with corrective lens purchases. VSP offers budget-friendly family plans. Head on over to our Vision Plan Wizard to find the perfect VSP plan for you!
Your vision. Your way.
Not covered for vision? Get an individual plan, customized for you – including where you want to use it: at the doctor, in a retail location, or even online.