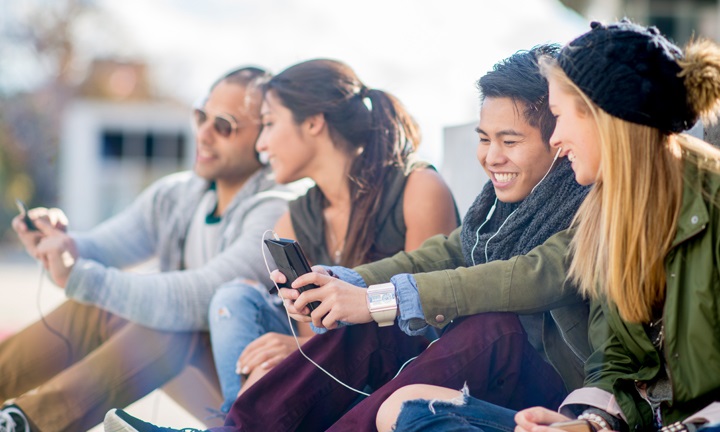 One eye down. She steadily holds open the second eye to repeat the slightly unnatural feeling of placing a sterile contact lens over her cornea. Blink, blink. She turns toward you with an uncertain smile and asks, "How do I look?" You see her old eyeglass frames resting next to solution case on the sink and reply, "I'm seeing you with new eyes. You look amazing."
Many children and teens that require vision correction eventually express interest in replacing their prescription glasses with contact lenses. As a parent, you should be ready to discuss the pros and cons of this decision with your child for the long-term safety of their eyes.
Choosing the right time for your child
While age might be strongly connected to the maturity level of your child, the ability to wear contacts is not dependent on age alone. Over four million young people under the age of 18 wear contact lenses, including children as young as 8 years old, but what's most important is the appropriate care and cleaning of his or her contact lenses. Considering their overall attitude toward cleanliness and responsibility is a good marker.
Does he or she brush their teeth every morning and night without reminders? Is their room relatively neat and tidy? Are they pretty good about doing their schoolwork and chores on time?
Unless your teenager has specific conditions or abnormalities, physically adjusting to contact lenses is relatively uncomplicated under the direction of an eye care specialist. But contacts pose additional risks to eye health and it's important your child understands the dangers and is ready to stick to a strict hygiene regimen.
The realities of using medical devices
The FDA classifies all types of contact lenses—including colored, nonprescription lenses—as medical devices. As such, they are administered under the supervision of an eye doctor with a prescription.
The risks include infection and physical harm to the surface of the eye. If not properly worn, cleaned and taken out at the proper intervals, then long-term damage and, in rare cases, blindness are possible.
Talking together with your eye doctor will ensure you and your teen understand how to avoid any complications. Daily disposable lenses are sometimes prescribed to decrease the chance of infection.
The benefits of contact lenses for your teen
Children and teenagers oftentimes report feeling far more confident, comfortable at school and engaged with others after making the switch from glasses. Even though modern glasses look pretty sharp nowadays, most teens like the more natural look of contacts.
Additional benefits include:
Sharper, more consistent vision
Peripheral vision correction (better for driving)
They don't fall off the face or fog up
Appropriate for active wear (sports, exercise, outdoor activities, etc.)
Cheaper to replace than broken frames
Ultimately, having the conversation with your eye doctor will determine the best option for your son or daughter. When it's time for contacts, you'll both be certain.
Regardless of your teen's vision needs, use your VSP Family Plan to have his or her eyes checked. If you don't have vision insurance, find out how VSP can help you save on your next eye exam or pair of glasses.
Your vision. Your way.
Not covered for vision? Get an individual plan, customized for you – including where you want to use it: at the doctor, in a retail location, or even online.