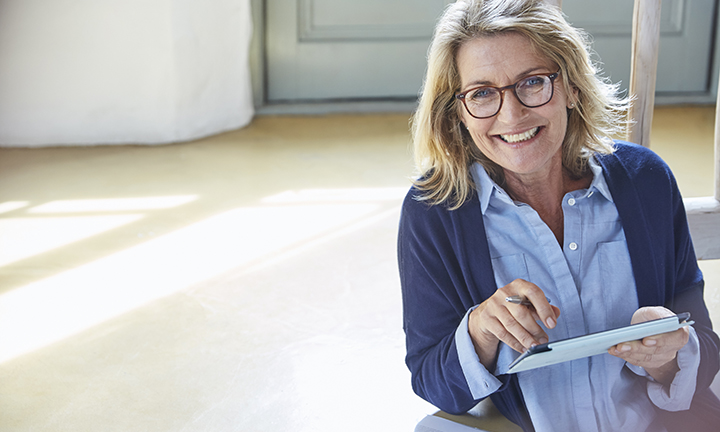 Bifocal lenses are the classic example when you think of lens innovations. They still help millions see clearly today, but lens technology has evolved slightly over the years. The list of lens enhancements available to you has become increasingly varied and specific. That means better vision options for you—especially as your vision changes with time—but it also means staying educated so you find the best options, and savings, for your eyes.
What is a lens enhancement?
Very simply, a lens enhancement is an added feature to the lenses in your glasses that is intended to improve the quality of your experience with your prescription glasses. That might include protecting your eyes from physical hazards, improving the comfort of your eyes in specific situations, and of course, maintaining the effectiveness of your prescription.
Oftentimes, lens enhancements are very personal and preference-based, and as your eyes change with age, you may decide on additional lens enhancements that better meets the needs of your eyes and expectations of your frames. If you're unsure if a certain lens enhancement would be good with your prescription, then talk to your doctor ahead of time. He or she will always give you advice about what they deem as necessary or beneficial.
Lens enhancement options for your long-term needs
The benefits provided are wide and varied. See for yourself.
Solid tints and dyes—provide color to your lenses. Reduce light and look nice.

Plastic gradient dyes—make lenses dark at the top and light at the bottom. Reduce light.

UV protection—protects eyes against exposure to 98% of UVA and UVB rays.

Light-to-dark tint (aka Photochromic adaptive lenses lenses)—automatically darken and lighten in the presence and absence of sunlight.

Blue-light filtering—reduces eyestrain caused by the light that emits from computers and smartphones.

Scratch-resistant coating—reduces normal scratching and pitting on plastic lenses.

Impact-resistant (aka Polycarbonate lenses)—impact and scratch resistant, light, thin and gives UV protection.

Anti-reflective coating—reduces eyestrain from glare, reflections and blue light from digital devices. Protects lenses from scratches.

No-line multifocal (aka Progressive lenses)—lenses with multiple prescription zones for near, mid and long-range vision.
This list of lens enhancements is not comprehensive, but these are the most commonly chosen by VSP members. Discover additional options through your optometrist.
Saving on lens enhancements with your VSP Individual Vision Plan
Depending on the specific VSP plan you have, most lens enhancements are covered partially or in full after you pay a copay. VSP members usually save on average of 20%- 25% on their lens enhancements for their prescription glasses, but this could be much more depending on your plan's coverage.
Savings are very specific to the type of enhancements you choose, so see the details of your VSP plan before talking to your doctor and deciding. That's how you'll maximize your savings.
Use your VSP Individual Vision Plan to schedule an eye exam with your VSP network doctor. If you don't have vision insurance, find out how VSP can help you save on your next eye exam and pair of glasses.
Your vision. Your way.
Not covered for vision? Get an individual plan, customized for you – including where you want to use it: at the doctor, in a retail location, or even online.