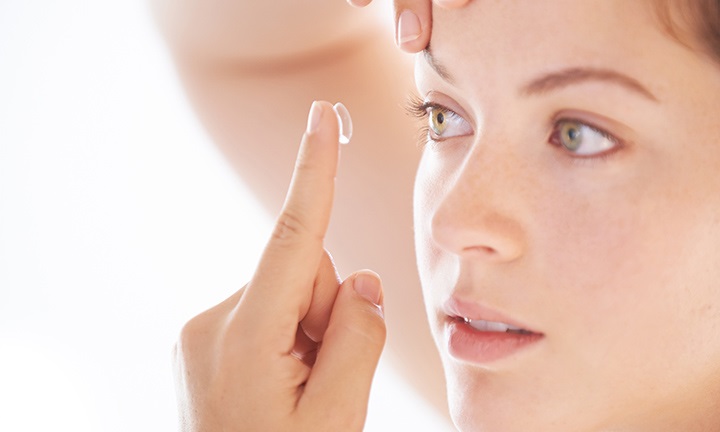 Last month we explored the reasons why you may be having problems with your contacts. As a follow up, we wanted to share some tips on how to put in and take out your contacts.
How to put in your contacts:
Many first time contact lens wearers find putting in their contacts a challenge. Here's a list of helpful tips to help boost your contact lens wearing confidence:
Wash and dry your hands before handling your contact lenses.
Remove the contact from the case and place it on your index finger; the contact lens should look like a tiny clear bowl on the tip of your finger.
Use your free hand to lift your eyelashes or eyelid open.
Look up and slowly move the contact lens towards your eye until it's on your eye.
Hold it there for a second to allow the contact lens to suction on to your eye.
When you feel the contact is in place, you can blink slowly and gently as your eye gets accustomed to the feel of the contact lens.
It may be difficult, but try to relax because blinking prematurely causes the contact to come out. It may take a few tries before you feel comfortable and confident about putting in your contact lenses, but in time, you'll master the process.
How to take out your contacts:
Wash and dry your hands before handling your contact lenses.
Prepare your contact storage case with contact lens solution (if you wear daily lenses, you can skip this step).
Looking up, pull your eyelid open with one hand.
With your free hand, use your index finger to slide your contact down towards your lower eyelid, then gently squeeze your contact lens with your index finger and thumb. This allows the contact lens to be easily removed from your eye.
There's an adjustment period for getting used to wearing and removing contact lenses. If you continue to have difficulties with your contacts, it's a good idea to call or visit your eye doctor. When you use your VSP Individual Vision Plan, rest assured that you are not only taking great care of your eyes, but you are saving money too!
Your vision. Your way.
Not covered for vision? Get an individual plan, customized for you – including where you want to use it: at the doctor, in a retail location, or even online.