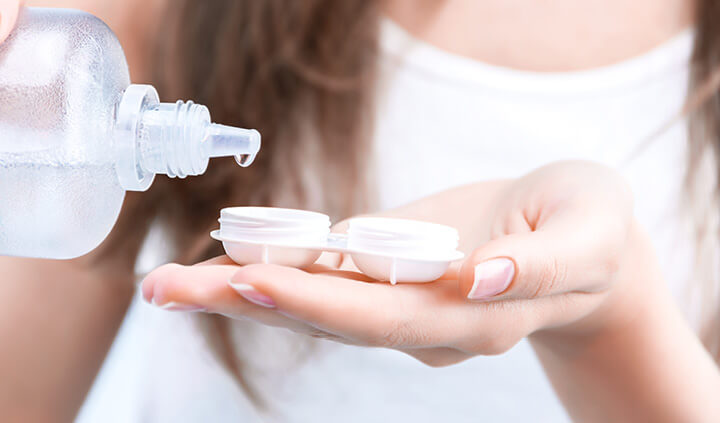 For many, contact lenses are the perfect solution for vision correction. Because contact lenses can be placed directly into your eye, they are a great option for people who live an active lifestyle, or simply don't like the look of glasses on their face. And while contact lenses are very safe for the most part, there are some key things you should know in order to prevent causing serious damage to your eye health. Here are some of the easiest ways to keep your eyes safe while wearing contact lenses.
How Do I Keep My Contact Lenses Clean?
The human eye is a very sensitive organ. Even a small number of bacteria can impact eye health. So, it is extremely important to keep your contact lenses clean before and after placing them in your eye. If you are unsure on how to do this, here are a few tips:
Use a good contact solution: Find out which contact solution works best for your eyes. Consider experimenting using different brands' travel sizes or samples to find something that works best for you.
Don't use tap water: Not only does water not clean contact lenses, but it can also dry them out and even cause damage to your eyes.
Wash your hands before handling contact lenses: Your hands are the last thing to come in contact with your contact lenses before they enter your eyes. If they are dirty, your eyes will then be dirty.
Clean your contact case regularly: When cleaning your case, use contact solution and then let it air dry in a clean environment. After three months, consider replacing your contact case.

How Can I Be Prepared for Wearing Contact Lenses?
Those who are new to wearing contact lenses may find themselves faced with a few unique challenges while wearing contact lenses. Whether it's losing one contact lens or eye irritation, it's easy to be prepared for some foreseeable problems.
Always have a contact case and solution nearby, especially while traveling. Consider keeping a travel size bottle of your favorite contact solution and case at your desk, or in your purse. If you don't, you could find yourself wearing your contact lenses longer than prescribed which could lead to potential eye damage.
If you know you're going somewhere with irritating fumes, dust, or other allergens, consider wearing glasses rather than contact lenses.
Keep a pair of glasses nearby, just in case. You never know when you may need them, and you can use your vision insurance to get an extra pair.
Don't Forget Vision Insurance
If you're looking to get new contact lenses or eyeglasses, it makes sense to see how much you can save with a VSP Individual Vision Plan! With flexible pricing and payment options for individuals, couples, and families, VSP vision insurance plans are designed to be affordable and practical. Get a vision insurance quote today.
Information received through VSP Vision Care's social media channels is for informational purposes only and does not constitute medical advice, medical recommendations, diagnosis or treatment. Always seek the advice of your physician or other qualified health provider with any questions you may have regarding a medical condition.
Your vision. Your way.
Not covered for vision? Get an individual plan, customized for you – including where you want to use it: at the doctor, in a retail location, or even online.