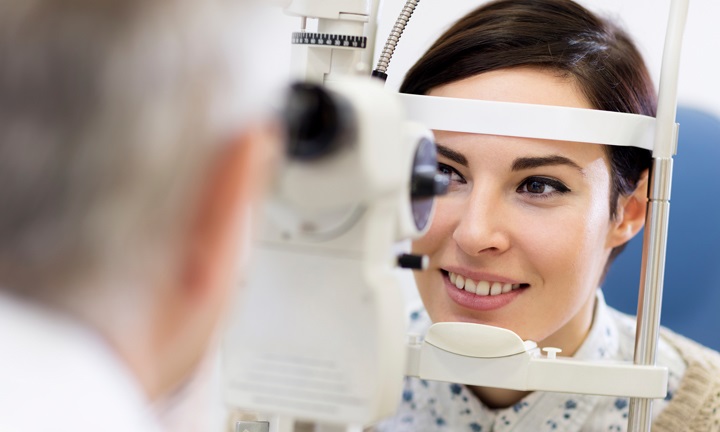 Testing for vision clarity is always important, but when it comes to the health of your eyes and your overall health, this is not the only important consideration. When choosing a vision insurance plan and an eye doctor, there's more than one reason to make sure a comprehensive dilated eye exam is always performed and covered by your plan.
What is a comprehensive dilated eye exam?
A comprehensive dilated eye exam is made up of four main parts—dilation, tonometry, the visual field test and the visual acuity test. Each part of the exam allows your eye doctor to observe and test important structures within your eyes. Collectively the four parts give your eye doctor a full measure of the health of your eyes.
Dilation—Special eye drops temporarily widen your pupils so the back of your eyes can be properly checked for swelling, leaking blood vessels and abnormal growths.
Tonometry—When eye pressure is higher than normal, it can be a risk factor for other eye diseases developing over time. This test applies a light blast of air to your eyes for a pressure reading.
Visual field test—A decrease in your peripheral vision can be an indicator for more severe eye diseases and health conditions. It's a simple but important test.
Visual acuity test—The traditional eye chart test will assess your ability to see clearly at varying distances.
Why is it important for the health of my eyes?
Vision screenings only help correct abnormal vision. Although vision tests are an important part of any comprehensive eye exam, they can overlook other important eye diseases and health conditions that often go unnoticed. An eye doctor closely examining your eyes can diagnose and treat these problems before they cause long-term vision loss or damage to your health.
What other types of health conditions can a comprehensive exam uncover?
A complete exam can detect very early signs of problems such as high blood pressure, glaucoma, diabetes and macular degeneration.
How often should I be having a comprehensive exam?
Once per year to make certain there are no changes in the health of your eyes over time. Don't go longer than two years without an exam. You may need to visit your eye doctor more frequently if you have a history of diabetes, other eye diseases, poor general health or are over the age of 60.
How do I make sure my annual comprehensive exam is covered by my insurance?
Every VSP network doctor performs a WellVision Exam® each time. These comprehensive eye exams are covered in full by VSP Individual Vision Plans. If you don't have vision insurance, find out how VSP can help you save on your next eye exam or pair of glasses.
What members are saying about the VSP Individual Vision Plan
"It paid for the exam for glasses plus a huge discount on the frames and lenses."
—Dwanna A., Mobile, Alabama

"I love VSP. It's not only affordable, but it's always been pleasant dealing with their customer service. It's always easy using my insurance to get new glasses and/or contacts."
—Victoria C., San Jose, California
Vision isn't one-dimensional and your annual eye examinations shouldn't be either. Make sure your next trip to the eye doctor includes a comprehensive dilated eye exam.
Your vision. Your way.
Not covered for vision? Get an individual plan, customized for you – including where you want to use it: at the doctor, in a retail location, or even online.