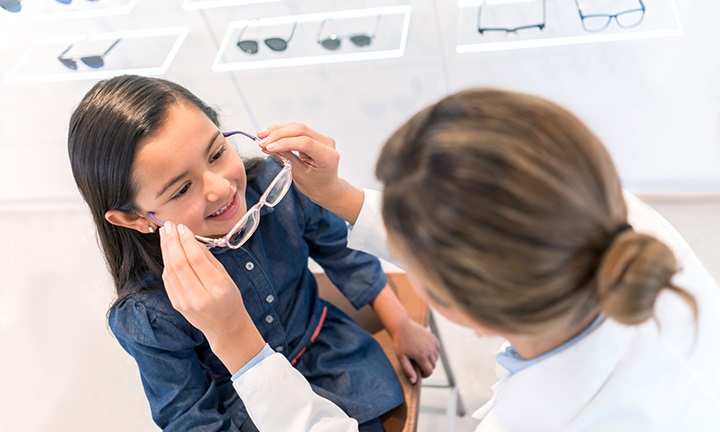 Humans are visual creatures. Vision constantly presents more information to our brains than any other sense. When it comes to your child's learning and interaction with others, the ability to see properly is crucial for their successful reception of information. When your child has a vision problem, your vision insurance will put the solution right in their line of sight.
Looking the problem right in the eye
It's estimated that 1 in 4 school-age children have vision problems. … 25 percent. Without proper coverage from a reputable vision insurance provider, every one of those children runs the risk of having developmental, learning and social adjustment problems. That's because children use vision to engage in sports, play and learning activities like reading.
Giving your child the best start possible begins with comprehensive health checkups—that's why you have health insurance. Vision insurance is a necessary extension of this coverage to guarantee their visual health as well.
Most common vision problems for children to have
In school-age children, these five conditions are most commonly observed:
Amblyopia—lazy eye
Myopia—nearsightedness
Hyperopia—farsightedness
Astigmatism—abnormal lens shape
Exotropia and convergence insufficiency—weakened muscles in the eyes
Correcting refractive errors like nearsightedness and farsightedness is relatively easy with prescription glasses and contacts. Your eye doctor will discuss other possible treatments for more serious problems with your child's eyes.
Symptoms to look for
These behaviors might clue you in to a potential vision problem for your child:
Sitting too close to the TV
Holding a book close to the face
Rubbing eyes often
Squinting or tilting head
Losing place while reading
Sensitivity to light
Since your child spends a lot of time at school, it's a good idea to speak with his or her teacher about these symptoms as well.
Trouble with learning and improper diagnoses
While there are many children in the United States that require additional help in school and treatment for learning disabilities and attention deficit hyperactivity disorder (ADHD), there have been a number of false diagnoses due to visual problems. Avoiding this problem is simple: have your child's eyes checked early on.
Eye exam schedule based on your child's needs
Every infant should have their eyes checked at around 6 months of age, and again at 3 years of age. A comprehensive dilated eye exam should be given by a trained eye specialist.
If any vision problems are discovered, then your child should go to the eye doctor once per year to ensure their prescription is correct. If your child has no vision problems to begin with, you should still have them see the eye doctor once every two years. Children's eyes change a lot during this time, and it's possible for their vision to improve or worsen.
Regardless of your child's vision needs, use your VSP Family Plan to have his or her eyes checked. If you don't have vision insurance, find out how VSP can help you save on your next eye exam or pair of glasses.
Your vision. Your way.
Not covered for vision? Get an individual plan, customized for you – including where you want to use it: at the doctor, in a retail location, or even online.