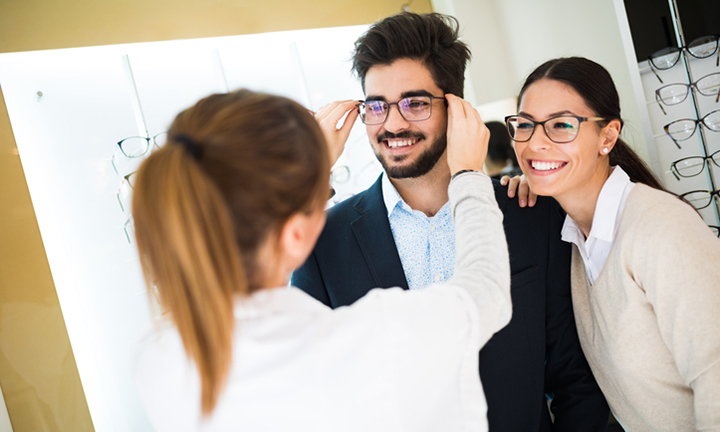 Vision insurance is an essential part of your total health coverage. However, some may not know what vision insurance is and what this type of coverage looks like in everyday life. In this blog, we will be looking at some of the most popular questions we get about vision insurance to help you make informed coverage choices and understand more about why vision insurance matters.
What is vision insurance?
Vision insurance is a term used to describe a health coverage plan with a vision benefit. It is designed to specifically cover vision concerns to help cover the costs of routine eye exams. Your plan may also offer discounted rates on corrective glasses and contact lenses. Most vision insurance plans focus on preventive care by covering most of the cost of your visit, leaving you with a small copayment instead of the full exam cost.
- Looking for a new eye doctor? Find a VSP provider in your area!
What is the difference between vision insurance and medical insurance?
The difference between vision insurance and medical insurance is the type of coverage included in each plan. Medical insurance does not typically cover routine vision needs. That is why vision insurance exists, in order to provide necessary coverage for your vision health. Vision plans help cover eye exams, prescription glasses, contact lenses and more.
Believe it or not, vision deficiencies such as nearsightedness, farsightedness, astigmatism and reading difficulties are not considered medical diagnoses. That is why medical insurance will not cover most eye exams. In most cases, m such as an injury; routine vision services are not covered.
Another important difference between vision and medical insurance is that, most often, . Instead, they use copayments to help you easily understand what your expected share of the total cost for service will be. For more about copays and how they work, check out the "Plan Coverage" section of our VSP FAQ page.
What are the benefits of having vision insurance?
According to the World Health Organization, 2.2 billion people worldwide have a visual impairment. That means nearly 1/3 of the people on the planet have some sort of vision issue. Vision insurance makes sure that if you are one of those people, you can have access to the assistance you need at an affordable price.
Eye exams help establish vision conditions and prescribe treatment, such as corrective eyewear. Having vision insurance helps cover those visits and associated costs, helping you keep your eyes healthy.
- Learn more about the benefits of VSP vision insurance.
What are the dangers of not having vision insurance?
The biggest danger of not having vision insurance is that you likely won't receive regular eye exams. Beyond vision concerns, eye exams play an important role in your overall health. During eye exams, your doctor can detect signs of other non-vision-related health issues, such as diabetes and hypertension. Undiagnosed hypertension and diabetes can not only lead to serious full-body health issues, but they can also lead to eye damage and potentially vision loss.
How can vision insurance protect vision health, both short and long term?
Vision insurance provides both short- and long-term vision protection, which can influence your overall physical health. Short-term vision insurance offers coverage for eye exams and corrective lenses, which for those who need them, can greatly improve quality of life.
The long-term benefits of consistent vision care can help prevent vision degeneration, detect and prevent conditions like glaucoma and cataracts, and monitor your eye health for signs of other ocular issues. Receiving vision care is a great example of how small efforts, like receiving regular examinations, can make a big impact over time.
How much money can you save by having vision insurance?
Taking care of your eyes is not inexpensive! For those without insurance, comprehensive eye exams can be a big expense, and adding contacts and eyewear on top of that just increases the financial investment dramatically. That is why vision insurance is such an important addition to your health coverage.
your eye exam and significantly lowered rates on corrective vision aids. VSP vision insurance can easily save you hundreds of dollars in the short term and thousands over the long term.
Does vision insurance cover LASIK?
Not all vision plans have LASIK coverage options, but VSP makes getting LASIK coverage easy. When selecting your coverage from VSP, you will want to ensure your plan has the VSP Laser VisionCareSM Program benefit. This benefit assists in paying for LASIK and can help you find qualified providers in your area.
Just remember that not everyone is a good candidate for LASIK surgery. Having insurance coverage for LASIK does not guarantee you will be a good candidate for the procedure. Be sure to talk with your eye doctor to find out if you are eligible for LASIK or other vision surgery options.
How can I purchase vision insurance?
Vision insurance options are available through many workplace insurance programs, as well as through privately purchased plans. Contact your company's human resources coordinator to find out if your workplace offers vision coverage. If they do not offer vision insurance, you are in luck because many companies, including VSP, offer affordable plans that you can purchase directly from our website.
VSP vision plans offer flexibility you need at prices you will love. With plan customizations to accommodate different levels of coverage, you can easily find coverage for yourself and your whole family. Finding a VSP plan is easy. Our Vision Plan Wizard tool guides you through each step of the process, asking key questions to help you determine what coverage you are interested in so that you can explore all of your options.
Conclusion
Vision insurance provides coverage for important examinations and corrective needs. It assists in services not covered by traditional medical insurance plans to improve your sight and quality of life. The benefits of having vision insurance are extremely helpful in both the short and long term.
For those wanting to prioritize vision care and save money, look into a VSP insurance plan. Our wide selection of providers and coverage options give you and your family the flexibility to find a plan that works for you. VSP is one of the most popular vision insurance providers in the nation. From vision correction allowances to preventive health screenings and eye exams, a VSP vision insurance plan has everything you need at affordable prices.

Information received through VSP Vision Care's social media channels is for informational purposes only and does not constitute medical advice, medical recommendations, diagnosis or treatment. Always seek the advice of your physician or other qualified health provider with any questions you may have regarding a medical condition.
Your vision. Your way.
Not covered for vision? Get an individual plan, customized for you – including where you want to use it: at the doctor, in a retail location, or even online.