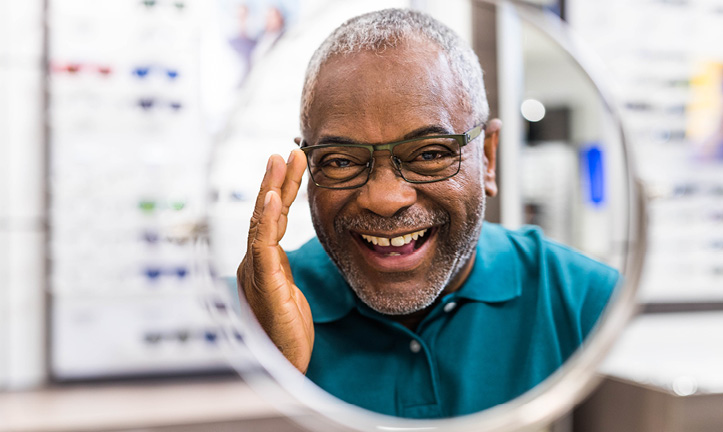 An important part of having VSP vision insurance is knowing your options for eye care providers. Knowing the difference between the services and costs of eye doctors will help you save a lot of money in the long run and get the quality care you deserve. To help as you investigate your vision care options, we've compiled a list of six frequently asked questions about VSP providers.
1) What is the difference between VSP in-network providers and out-of-network providers?
An in-network provider is an eye care doctor that has met VSP's requirements for quality of service and accepted specific rates negotiated by VSP to save you money on your services. An out-of-network provider does not have the same discounted rates for their services. You will typically pay much less going to a VSP network doctor.
2) How do I know which services are offered by the VSP in-network providers?
You can search which VSP network providers offer the eye services you need on our website. With thousands of in-network optometrists and ophthalmologists located all over the United States, VSP members enjoy easy access to quality vision care. Our eye doctors offer a suite of services, including:
- Comprehensive eye exams
- Vision screenings
- Glasses prescriptions
- Contact lens prescriptions
3) How do I ask my out-of-network eye doctor to join the VSP network?
If you've already built a relationship with an out-of-network eye doctor, you can refer that doctor to our become a VSP doctor website. The application process can take up to 12 weeks and is largely dependent on the provider.
4) How do I find a VSP network eye doctor?
You can find a list of VSP network doctors near you on our website. You'll be able to search for optometrists in a radius as small as 5 miles to as big as 100 miles. Just as a reminder: If you choose to go to an out-of-network provider, you'll have to submit your claims yourself and will be reimbursed at lesser out-of-network coverage amounts.
5) Can I get my eye exam at one location and eyeglasses at another?
Yes, you can. Just make sure to have the optometrist who performs your eye examination provide you with your eye health records and a prescription for you to take to the location where you'd like to purchase eye products.
6) What does it mean to be a VSP Premier Provider?
As you search for in-network providers, you will see some are labeled "Premier Program." VSP network doctors who participate in the Premier Program provide the personalized attention you want and the ease you need. They also carry the latest technology available and provide bonus offers that are exclusive to Premier Program locations. Simply put, members get the most from their benefits when they visit a Premier Program location.
Keep in mind, the "Premier Program" indicator is not meant as a designation of care quality as all of our doctors already meet VSP's high quality standards for professional services.
The Premier Program may sound like something that will cost money above and beyond what your VSP vision insurance plan calls for, but good news: it doesn't! ALL VSP members have access to the Premier Program - which is part of our incredible network of highly knowledgeable doctors.
We hope these six frequently asked questions help you as you learn how to make the most of your VSP vision insurance plan. If you have additional questions about your VSP vision plan, visit our vision plan FAQ page.
Your vision. Your way.
Not covered for vision? Get an individual plan, customized for you – including where you want to use it: at the doctor, in a retail location, or even online.