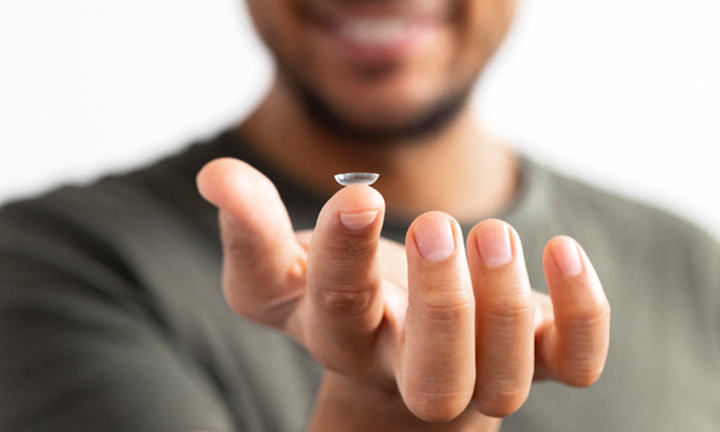 You've just returned from the eye doctor, who has informed you that you should correct your vision with prescription lenses. Your doctor has given you the choice between glasses or contact lenses, and you decided to go with contacts! So, what comes next? If you've never worn contact lenses before, there are a few extra steps you need to know about to make sure you get the right fit and to ensure your best chance at clear vision. Let's get to know everything about contacts.
Why Choose Contacts?
Contact lenses are a convenient choice for many people, and they have some advantages over glasses. You probably chose contacts for at least a few of these reasons:
- More natural field of vision compared to glasses
- Freedom of movement during physical activities
- Ability to wear your favorite non-prescription sunglasses
- Less costly to replace than glasses
- Not loving how you look in glasses
- Wanting to avoid glasses fogging or getting smudged when wearing a mask
- Now that you've made your choice, it's time to have a contact lens exam.
Do I Need a Contact Lens Eye Exam?
Prescriptions for contact lenses are different from glasses, so you'll need to schedule a contact lens exam to determine options and details specific to contact lenses.
This exam has a few components, including consulting with an optometrist, getting key eye measurements, and having a contact lens fitting. If you're new to contacts, you'll also receive guidance on how to insert and remove lenses so that it becomes comfortable and easy. When your contacts fit well, you won't know they are there at all! All contact lens prescriptions are specific for a kind of lens, and most will specify a particular brand. This ensures you get the fit and comfort that is best for your eyes. Ask your eye doctor to prescribe a major brand of contacts if you'd like to be able to order your lenses from the widest range of retailers.
Once you have your contact lens prescription, it's time to order your lenses. But first, let's talk about insurance options and the cost of contact lenses.
Does Insurance Cover Contact Lenses?
Once you've decided to go with contacts, you have payment options for the exam and the lenses. Most vision insurance plans offer savings or a copay on both the contact lens eye exam as well as lenses.
Each vision plan will have its own levels of coverage and allowances for contacts. Nearly all plans have a contact lens allowance that can offset some or all of the material costs. With VSP Vision Insurance, most plans have a contact lens allowance, plus you'll be able to take advantage of additional savings and discounts through VSP's Exclusive Member Extras.
Where Can You Buy Contact Lenses?
Once you have a prescription, there are several options to purchase contacts that depend on your budget and your vision insurance coverage.
Contact lenses can be ordered from many retailers, both in person and online. It's possible your eye doctor will have a recommendation for a supplier — or even sell them at their office — but you can order from any retailer that sells your brand.
The steps to get started ordering contacts are simple. First, locate the type and brand of contacts from your doctor. Then, upload your prescription to the website. Finally, choose a method of payment (cash, FSA/HSA or insurance) and complete your order!
Many online retailers accept insurance, but the benefits for in-network and out-of-network can vary widely, so it's a good idea to check directly with the retailer before placing your order. No matter which vision insurance you have chosen, you'll get the most by using the contact lens retailers that are in network for your plan.
If you have insurance through VSP, you can make the most out of your coverage by getting contacts through your VSP network doctor or shop contacts online at Eyeconic.
Are Contact Lens Subscriptions Worth It?
Getting your lenses delivered automatically can save time and effort! Some online retailers offer contact lens subscriptions for disposable contacts so that you can receive contact lenses on a schedule that fits your life and level of use.
The process is typically easy for retailers that offer subscription services. First, you'll start an order, choosing your lenses and payment method. Then you'll indicate frequency of deliveries and quantity of lenses to be shipped. Many sites offer discounts for subscriptions, but the main benefit is never worrying about running out of your lenses!
How Often Should You Replace Contacts?
Some contact lenses are worn once per day, then discarded. Others are meant to be worn for several days or longer, with care between wearings. Some rigid (semi-permeable) lenses are meant for the long term — many months or more, if your prescription does not change.
Contact lenses have recommended life spans, and it is a good idea to know the recommended time frame and stick to that. Following the instructions about the wear lifetime of your contacts can help reduce your risk of eye infections.
Your eye doctor will discuss all of your options with you. Be prepared to ask any questions that you may have, so that you understand all of the choices available for your specific prescription.
What if My Contacts Prescription Changes?
Your contact lens prescription will typically be valid for one year from your exam date. This is meant to help you maintain good eye and vision health. Having a comprehensive eye exam every year can keep your vision clear and your chance for long-term vision problems low. Need an eye appointment? VSP has you covered with our Find an Eye Doctor search tool.
If you find that after a year or two your contact lens prescription needs changing, don't worry! This is not uncommon, and it only takes a short amount of time to update your prescription. Then, you'll be able to upload your new prescription to the retailer where you buy contacts and continue ordering exactly what you need for your clearest and best eyesight.
Contacts and VSP Vision Insurance
Seeing your world with clear vision is important, whether you choose contact lenses or glasses to sharpen your view. VSP Individual Vision Plans have contact lens allowances so you can correct your vision in the way that suits you best.
Is vision insurance worth it beyond glasses or contacts? When it comes to total eye health, absolutely. VSP has everything for complete vision health, including vision correction allowances, preventative health screenings, annual eye exams, and more. With providers across the country, it's easy to find a location near you. Get started today with our Vision Plan wizard to find the plan that's right for you and your family.
Information received through VSP Vision Care's social media channels is for informational purposes only and does not constitute medical advice, medical recommendations, diagnosis, or treatment. Always seek the advice of your physician or other qualified health provider with any questions you may have regarding a medical condition.
Your vision. Your way.
Not covered for vision? Get an individual plan, customized for you – including where you want to use it: at the doctor, in a retail location, or even online.