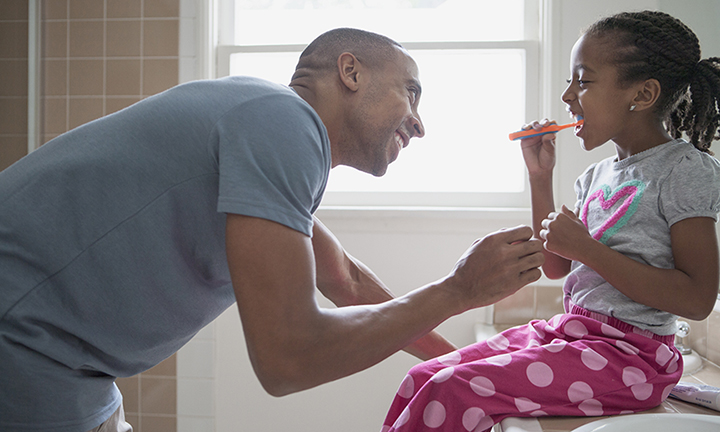 As children grow from babies to toddlers, there are many growth milestones that are celebrated; first steps, first words, and first vacations or outings. Along with these milestones are first trips to the dentist and eye doctor. What should you expect for your child's first visit to the dentist? How about your child's first trip to the eye doctor? Read more about what you can expect and how to prepare for these important firsts.
Dental Care Milestone: Your child's first trip to the dentist
Your child will start teething sometime between six and eight months of age, first with the two front bottom teeth, then the four upper teeth, and finally with the back molars more gradually. By the time they are two and a half, they will likely have all 20 baby teeth. Some dentists recommend scheduling the first examination around one year of age, after the initial stages of teething, but many will want to see your child around two and half or three years of age, after all of the baby teeth have arrived.
Although the first appointment with the dentist can be a little frightening for some children, there are three things you can do to make it a positive experience:
Acquaint them with the office and staff—upon arrival, show your child the examination room and introduce them to the staff, before they are called for their exam. While your child is in the chair, stay with them, make sure they feel comfortable, and show them they have nothing to be afraid of.
Set expectations—prevent surprises by talking to your child about what the dentist will do during the examination. Reading them a book about a trip to the dentist can be a helpful tool.
Share your experiences—tell your child about some of your past visits at the dentist. Speak positively about them. When he or she knows 'nothing bad happened' at your visit, then it will be less intimidating for them.
The first dental appointment will likely be a short one where the dentist will:
- Examine your child's gums, teeth, and mouth
- Discuss the importance of proper oral hygiene and show the proper techniques for brushing and flossing
- Talk about tooth decay and avoiding bad habits like excess sugar consumption and thumb-sucking
- Create a regular schedule for future dental appointments
Early tooth care and prevention of cavities
Even baby teeth play an important role in chewing, biting, and the development of speech in your child. That's why it's important to encourage good dental care habits early on. Cavities form when bacteria in the mouth break down simple sugars and form acids that sit on the teeth and damage the enamel. Thankfully, preventing this is easy:
- Encourage your child to floss once per day and to brush and rinse twice per day
- Avoid foods that are sticky and will adhere to molars
- Limit food consumption to three meals per day
- Include sweets with meals, while limiting overall sugar intake
- Serve fresh fruits and vegetables as snacks
- Avoid sodas, juices with added sugars, and other sugary beverages
- Around the age of two, you can start to brush your child's teeth with a non-fluoride toothpaste. Once they're old enough not to swallow the toothpaste, then you should switch to a fluoride toothpaste that will help strengthen their teeth.
Baby teeth will start to give way to adult teeth around the age of five or six. Yup, that's right, your child's mouth is growing up already! While losing teeth is sometimes uncomfortable, let your child wiggle the tooth themselves until it comes out. This may reduce the amount of bleeding and pain they feel. With a full set of permanent chompers coming in so early, it's even more important to establish good oral hygiene habits with your child at a young age.
Vision Care Milestone: Your child's first trip to the eye doctor
Taking your child to get their eyes checked is just as important as a dental exam. Here are some frequently asked questions about children's vision care that can help point you in the right direction:
When should I schedule my child's first eye exam?
Six months of age. Vision changes rapidly during the first stages of your child's development and it's important to verify that their vision is developing properly.
How do I prepare my child for their first trip to the eye doctor?
Similar to their first dental visit, set expectations. Tell them what the optometrist does and how they will check their vision. Show them pictures from the office and tell them stories about your past visits to the eye doctor. Selecting a doctor that specializes in pediatric optometry is also helpful.
What should I expect from my child's first eye exam?
Similar to an eye exam for adults, the eye doctor will check if your child has nearsightedness, farsightedness, astigmatism, lazy eye, or other more severe conditions. Identifying problems early on will avoid longer term learning and development difficulties.
Dental care and vision care should start early for children. Enforcing good oral hygiene habits and eye health care from the beginning will help guarantee a good health for a lifetime. That's something the whole family can smile about.
The best dental and vision insurance for your family
If you and your family need insurance, VSP can help. We've partnered with Guardian Dental so you can get dental insurance for your family in minutes. And it's easy to get vision coverage for your entire family using a VSP Individual Vision Plan. Learn more about vision insurance and dental insurance for you and your family.
Your vision. Your way.
Not covered for vision? Get an individual plan, customized for you – including where you want to use it: at the doctor, in a retail location, or even online.