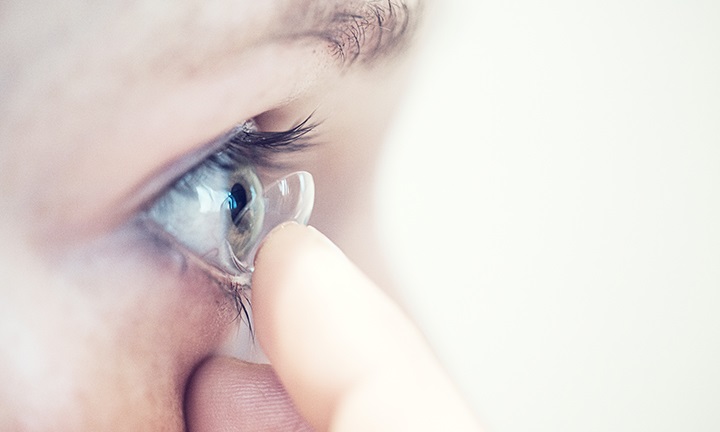 Although the change from glasses to contacts can cause a sigh of relief, there may be some anxieties that come with being a first-time contact wearer. Here is a simple guide to help you feel comfortable and confident about wearing contacts for the first time.
Contact Lens Tip 1: How do I insert the contact lens?
A big fear for many people is actually inserting the contact. Touching your eye is not a natural feeling, but with practice it can become second nature. Here are a few quick steps:
First, make sure your hands are clean (touching your eyes with dirty hands is a big no-no). Place the contact on your fingertip; then use both hands to hold your eye open. Look up, place the contact on the white of your eye, look down and blink! That's it, easy-peasy.
Now, don't get discouraged if you don't get it right away or if the lens feels uncomfortable; it might take a few tries to get the hang of it. Practice is the key to feeling confident when putting in and taking out your contacts. Click here for a detailed step-by-step tutorial on inserting and removing your contact lenses.
Contact Lens Tip 2: How should the right pair of contacts feel and fit?
If the lens is fitted correctly, you won't feel it at all. However, finding that perfect lens can be tricky, so knowing your eyes is crucial when switching to contacts. When searching for the right fit and feel of your contacts — head to the experts. Setting an appointment for a contact lens exam can be a huge help when transitioning to contacts. The doctor will help find the perfect lens — determining the right thickness, curve and diameter — specific to each patient. Once the prescription is written and your contacts are chosen, make sure to set up a follow-up appointment. This is so the doctor can determine that the lens is the right fit and make any adjustments needed. In order to maintain the comfortable feel of your contacts, it is critical that they receive proper maintenance.

Contact Lens Tip 3: Clean your contacts
The process of cleaning contacts is not time-consuming or difficult, but there are a few steps that are very important!
Always use clean contact solution (never tap water or expired solution)
Make sure the tray is spick-and-span — ready for use — contacts won't stay clean in a dirty case!
Clean your contacts regularly — don't forget to go through this process daily to ensure the best sight and the most comfortable experience
Contact Lens Tip 4: Things to remember
Here are a few helpful hints to remember when wearing contacts:
- Set a schedule: Don't forget to replace your contacts on schedule, even when cleaned regularly. Contacts can accumulate dust and become damaged. Keep your contacts in only as long as your doctor prescribes; keeping your contacts in too long can deprive your eyes of oxygen and can cause redness, irritation and other problems.
- Squeaky clean: Washed hands is a must. Every time your hand touches your contact or eye, it should be washed and dried. Nails should never touch your lens; only fingertips should touch such delicate material.
- Patience is a virtue: If contacts are tricky at first, don't give up. It takes a while to get used to the process, and practice makes perfect. Trust us, they are worth it!


Do you have more questions about wearing your contact lenses?
For more information and FAQs about contacts, read an additional article on contacts from VSP. Be sure to use your VSP Individual Vision Plan to schedule an eye exam with your doctor if you have concerns about your contact lenses. If you don't have vision insurance, find out how VSP can help you save on your next eye exam or set of contact lenses.
Your vision. Your way.
Not covered for vision? Get an individual plan, customized for you – including where you want to use it: at the doctor, in a retail location, or even online.