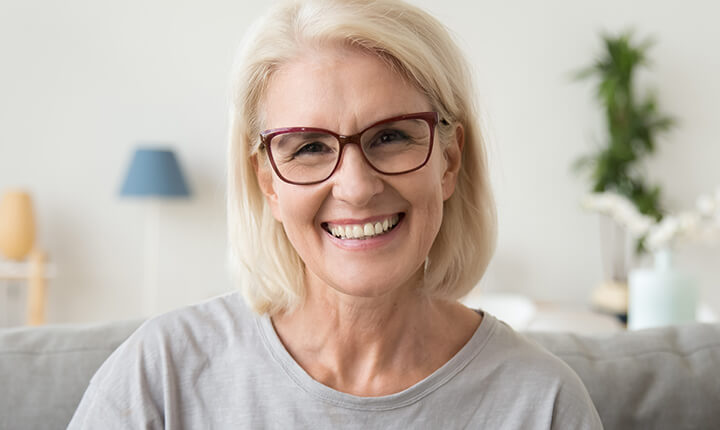 At the end of each year we often have a renewed commitment to our future health. We are full of energy and excited to start new projects, buckle down on our fitness goals, learn new skills or break old habits that are no longer serving us. But we don't need the end of the year to embrace anything healthy.
No matter the season, taking care of your body — from head to toe — is important for day to day well-being, long-term health and even overall happiness. For many of us, making sure that we are doing all the right things for health is made easier when we have insurance coverage. It helps to cover costs and removes some stress about financial burdens from unexpected events.
But sometimes the "standard" insurance offered isn't enough for your entire body. If you currently have medical insurance coverage and have wondered if you really need dental or vision, now's the time to learn about your options and consider signing up. We'll show you how dental insurance and vision insurance are a match made in heaven.
For Vision and Dental Health, Go Beyond "Regular" Medical Insurance
Your medical insurance covers many things you would expect, from doctor visits to hospital stays to prescription drugs. Those plans often cover preventative care like blood tests and cancer screenings like mammograms.
However, while nearly all medical insurance covers emergency care for bodily injuries that include your eyes or mouth, the coverage often ends there. Preventative care for your oral health or vision health screenings are not covered services in a standard medical insurance plan. Just because the basics of oral and eye health are not included in medical insurance, don't think that vision and dental preventative care are not important. That's a myth we'll take apart right now.
Vision and Dental Health: Windows Into Your Overall Well-Being
We are learning more all the time about how the health of your mouth and your vision connect back to your overall health. Knowing that the body is not a collection of parts but one holistic system — this makes sense.
For example, gum disease is linked to several chronic conditions, including diabetes, heart disease and stroke. The bacteria from plaque flourishes in your mouth when brushing and flossing habits are not adequate. Those bacteria can cross over into your bloodstream, setting the stage for something called endocarditis, an infection of the lining of the heart.
According to the Mayo Clinic, plaque bacteria also can contribute to an inflammatory response in your whole body, raising your chances for heart disease or a stroke. And in recent years, a compilation of studies has linked gum disease (called periodontitis) to premature birth and low birth weight in women who are pregnant.
As for vision health and holistic well-being, there are important connections worth knowing. The American Academy of Ophthalmology outlines several health problems that can be detected by an eye exam. For example, one of the earliest signs of high blood pressure can be detected by examining the blood vessels in the eyes. Eye exams are important for those at risk of diabetes, too. Even before a patient knows that they have diabetes, they can show signs of diabetic retinopathy in the blood vessels of the retina.
Additional total health conditions that could be detected in an eye exam include: multiple sclerosis, high cholesterol, vascular disease and rheumatoid arthritis. Something that seems simple, like an annual eye exam, can serve as a warning signal — possibly saving your life.
Dental Insurance: So Much More Than X-Rays
When you have dental insurance, you'll feel more confident each time you visit the dentist. You'll know that routine cleanings will be affordable (or covered completely). If and when you need additional services, like fillings, your costs will be discounted so you can take care of your oral health in the way that's right for you.
The dental insurance plans offered through VSP by Guardian Direct give you over 114,000 dentists in-network, coverage for cleanings and x-rays, and significant discounts on in-network dental procedures. It's a simple way to take care of your oral health.
Vision Insurance Offers More Than Preventative Care
When you have coverage through a plan like VSP's Individual Vision Plans, you'll have access to a low-copay comprehensive eye exam each year, which checks for many of the health conditions above, plus glaucoma, cataracts and more. But VSP's insurance also gives you vision correction benefits, like generous allowances toward frames, lenses and other upgrades so that you can see (and look) your best. VSP gives you options like name-brand frames, cutting edge technology in lenses and enhancements, and locations all over the country for your convenience.
Wondering how much money you could save with vision insurance from VSP? Without insurance, the cost of glasses can range anywhere between $8 and $600 for a standard pair. And that is without fancy lens enhancements that can raise the cost even higher to $500 or more. Many VSP customers save hundreds of dollars per year on their eyeglasses and exam costs. Even Lasik procedures are discounted with a VSP vision plan.
Ready to Get Dental and Vision Insurance?
Make sure you stay healthy for this holiday season, the entire winter and for many more to come. Remember that connections are everywhere between the health of your mouth and your eyes and the rest of your body. What you can do today is take charge to make sure you have coverage for the regular care of these important systems.
You're in the right place with VSP's nationwide and well-regarded vision insurance coverage and VSP's partnership with Guardian Direct to offer affordable dental insurance plans to you. We invite you to take charge of your dental and vision insurance needs: Find a vision insurance plan that works best for you, and shop the Guardian Direct Dental Insurance plans here.
Your vision. Your way.
Not covered for vision? Get an individual plan, customized for you – including where you want to use it: at the doctor, in a retail location, or even online.