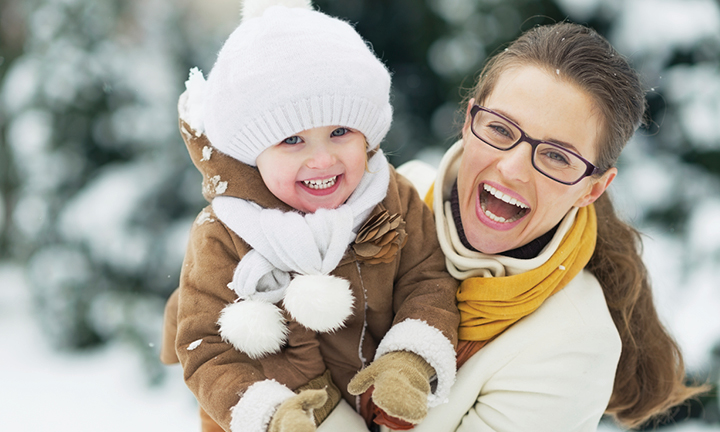 The holidays are the best time of the year! But with upcoming ski trips, hanging the house lights, and family gatherings, there are risks other than the anticipated family altercation.
With Christmas approaching quickly, here are 4 things to watch out for when it comes to vision safety, to ensure a refreshed and crystal-clear outlook on the year ahead … literally.
Sun Reflection Off the Snow: Applying sunscreen and bringing your sunglasses to the slopes isn't exactly top of mind. But snow reflects almost 90% of UV radiation, making it important that they are among the first things packed. The cornea is at risk of becoming damaged when the eyes are exposed to this amount of reflection. Goggles or tinted sunglasses can help reduce chances of eye damage while enjoying the fresh pow pow!
Mistletoe Mishaps: Ahh, the mistletoe has been hung and the anticipation builds as the perfect moment is at stake. I hate to be a buzzkill, but your vision is at stake, too. If by chance you and your lover both go left, you are at risk of something much larger than rosy cheeks and a good story. Holiday parties can get intense; you must be prepared for anything and everything, even a concussion from a disastrous mistletoe attempt. The smallest of concussions may affect your vision in the long run. It is important that if you or anyone around you suffers head trauma, you know the signs of a concussion to reduce any chance of vision damage.

LED Lights and Lasers: Although LED lights might be the secret weapon to taking the spot of top house in the neighborhood, is it worth causing damage to your vision? Affects of LED lights have been studied heavily and have been found to not only disrupt sleep, but cause damage to the retina, macula and photoreceptors. Avoid looking directly into LED and laser lights for an extended period of time to avoid vision damage.

Champagne Celebrations: You've been chosen to pop the bubbly at the work party — what an honor and huge responsibility! Did you know that a bottle of champagne carries almost 3 times the pressure of a car tire? According to a study conducted in 2004, that's enough pressure to shoot a cork more than 40 feet. Although getting hit by a cork in the eye is rare, and doctors have only seen a few cases, 25% of those patients have suffered severe consequences, like blindness. Here's some eye safety tips to getting the party started safely for you and your coworkers.
If you have a holiday vision mishap and you don't have vision insurance to help pay for those eye doctor visits, we invite you to consider getting vision insurance from VSP Individual Vision Plans. Check out our vision insurance plan rates and benefits for eye exams. You'll be on your way to keeping your eyes healthy and saving money!
Your vision. Your way.
Not covered for vision? Get an individual plan, customized for you – including where you want to use it: at the doctor, in a retail location, or even online.