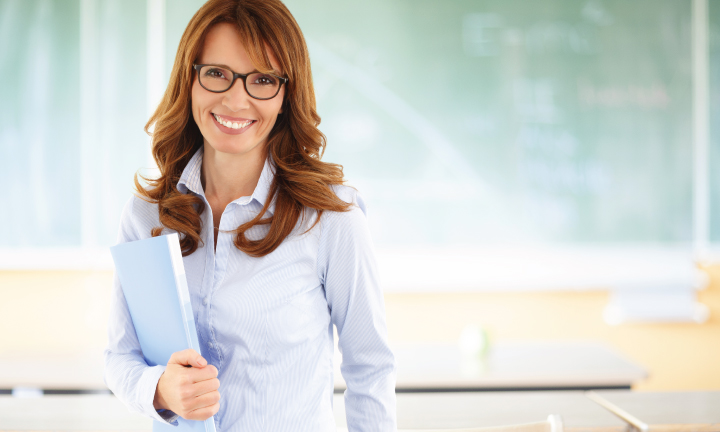 Are you tired of spending hours at the eye doctor's office trying to determine which pair of glasses look best on you? You are not alone. In fact, more than 61 percent of Americans either permanently or occasionally wears glasses.
With thousands of brands to choose from, figuring out the best pair for you can be frustrating and challenging. However, by knowing the shape of your face, the color of your eyes and the shade of your hair, you can quickly choose your next pair of glasses with confidence.
Know Your Face Shape
Hearts, ovals, squares and circles aren't just arbitrary shapes when it comes to choosing glasses. They describe your face. Knowing what shape your face resembles makes choosing flattering eyewear much easier.
An oval face has balanced facial features with a narrow chin and wider forehead.
A round face is typically defined as a soft, circular shape where the width and length of the face are more or less equal.
Heart-shaped faces tend to have wide foreheads and narrow jawlines with a small chin.
Square faces have angular features like a broad forehead, well-defined jawline and strong cheekbones.
Determining your particular face shape, however, can be challenging. If you are unsure of your shape, consider following these quick steps to make an accurate judgment:
Place a piece of paper on top of a photo of your face and trace the outline.
Stand in front of a mirror and use a dry erase marker, lipstick or eyeliner to outline your face shape.
Using a flexible tape measure, take measurements of your face. Measure your cheek-to-cheek width, your jawline, your forehead and the length of your face.
Once you've determined the appropriate shape of your face, it's time to choose frames that best accentuate your unique look. Whether you're looking for everyday spectacles or fashionable sunglasses, knowing your face shape will make glasses shopping much easier.
Glasses for Oval Faces: Shop for styles with geometric shaped frames like rectangles and squares. Stay away from thick, oversized and narrow frames.
Glasses for Round Faces: Try angular, geometric, rectangular, and upswept frames and avoid choosing round or oversized frames.
Glasses for Heart Faces: Choose bottom-heavy frames, low-set temple frames, oval-shaped frames or other light, rimless styles. Stay away from embellished, top-heavy or wide-top frames.
Glasses for Square Faces: Look for rectangle, square, cat-eye or wayfarer glasses and aviator or wrap-style sunglasses. Avoid boxy, oval and heavy brow frames.
Know Your Eye Color
Though it may be an unexpected factor to consider when choosing glasses frames, your eye color can have subtle, positive influences on your overall appearance.
By selecting frames that are similar to your eye color, you can achieve a natural, mellow look. Contrasting colors, on the other hand, have a more dramatic appearance that can make your eye color pop.
Blue eyes: Coordinate your frames and eye color with blue and grey tones like mineral, cadet or dusk. Contrast with your eyes by selecting rich browns and tortoise colors like brindle or dark chocolate.
Green eyes: Go for styles with earthy tones like gold, browns, and greens for a more natural appearance. Pair your green eyes with shades of pink, opal and purple to create a stark, contrasting look.
Hazel eyes: Deep greens and greys give hazel eyes natural depth, while gold shades like amber and topaz bring out vibrant flecks hidden in hazel eyes.
Brown eyes: Give your brown eyes a rich look with warm tones like sepia or russet and provide stark contrast with green colors like olive, chartreuse or artichoke.
Know Your Hair Color
Whether you have natural or dyed hair, choosing the proper glasses frame color can have a big impact on your overall appearance. Though it's important to consider the shade of your hair, you should also consider the warm or cool undertones that exist as well.
Warm Blonde: Your hair has honey and bronze tones that give off a slightly darker appearance. Consider warm pastel colors like hemlock and peach or tortoise and brindle patterns.
Cool Blonde: Being a cool blonde means you have ashy undertones that brighten your overall color for more of a platinum shade. You can easily choose frames with black, blue, dark green and light pink tones, but stay away from bright yellow or gold.
Warm Brown: As a warm brown, your hair contains darker shades of brown with auburn and red undertones. Choose light tortoise frames with warm tones like hemlock and bourbon. Also consider warm reds, creamy whites and vivid greens.
Cool Brown: Your cool brown hair has lighter shades of brown and ashy tones that pair great with black, pink, blue or dark tortoise.
Red Hair: Lucky for you, your vibrant red hair makes you the perfect candidate for rich greens, tortoises and black frames. For best results, steer clear of ashy and yellowy tones.
Black Hair: Your black hair complements saturated, bright colors like sea and cranberry. You will also look great in black and dark tortoise frames but avoid ashy, washed out tones.
Grey/White Hair: With grey-toned hair, you have a unique opportunity to wear crisp, bright colored frames. Stay away from yellow and brown shades and reach for bold blacks, radiant reds or gunmetal greys.
Start Glasses Shopping Today!
Ready to start shopping for your next pair of perfect lenses? Now that you know what glasses will look best on you, let VSP Direct help you get started. With affordable family vision insurance plans, great vision coverage and much more, VSP Direct can add assurance and assistance for any and all of your family's vision needs.
Your vision. Your way.
Not covered for vision? Get an individual plan, customized for you – including where you want to use it: at the doctor, in a retail location, or even online.