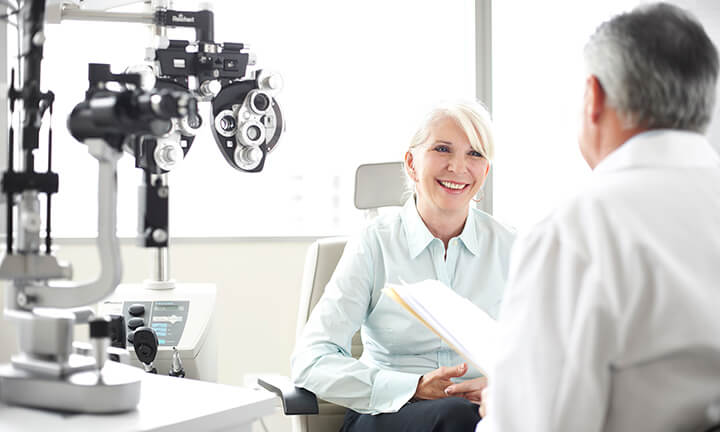 Regularly scheduled eye exams are important, even if you already have perfect vision. Read our three reasons below why it might be a good idea to schedule your next eye exam today!
Reason #1 to Schedule an Eye Exam Today: You'll forget.
While this reason isn't necessarily vision related, it's true. We humans tend to procrastinate, especially if we feel like the issue at hand isn't immediately important. And because an eye exam is often considered "preventive care," it rarely falls under our brain's "urgent" category. In fact, our VSP network doctors often see patients who've been putting off their eye exams for years (sometimes decades!). So, while it's top of mind, consider scheduling an eye exam today, before you forget! If you have VSP vision insurance, your plan offers a covered eye exam each year, and you can easily find an in-network doctor in your area by using our find a doctor tool.
Reason #2 to Schedule an Eye Exam Today: An eye exam can detect disease.
Obviously, eye-related diseases are a given, but did you know that a comprehensive eye exam can also help your doctor spot signs of serious problems, such as diabetes, high blood pressure, high cholesterol, and more? Our eyes are amazing, and often act as windows to other parts of our body. That's why eye exams are an important part of monitoring our overall health, not just our vision. Of course, we should mention that detecting signs of disease is often only a benefit of comprehensive eye exams (unlike the free exams you can get at many retailers that will likely only test your visual acuity). These in-depth analyses require access to a vision specialist, which is another benefit of affordable vision insurance, like VSP Individual Vision Plans.
Reason #3 to Schedule an Eye Exam Today: You'll be able to update your prescription.
Our eyes are always changing, especially as we age. So, you'd think it would be a no-brainer to get them checked regularly. Unfortunately, there are far too many people who just try to make do with old glasses and outdated prescriptions. This not only keeps you from visually experiencing life at its fullest but can also cause issues like eye strain and headaches. Regular eye exams are a fantastic way to help you gauge how your eyesight is changing over the years and can help you know exactly when to invest in a new pair of glasses that will completely meet your current vision needs. Affordable vision insurance can help you drastically reduce the cost of this new eyewear, particularly when it comes to special enhancements, like progressive lenses and protective coatings.
So, there you have it! Three reasons why it might be a good idea to schedule your next eye exam today. If you have any questions about eye exams or affordable vision insurance, please don't hesitate to ask. We invite you to check out how VSP Individual Vision Plans can help make eye exams more affordable.
Your vision. Your way.
Not covered for vision? Get an individual plan, customized for you – including where you want to use it: at the doctor, in a retail location, or even online.