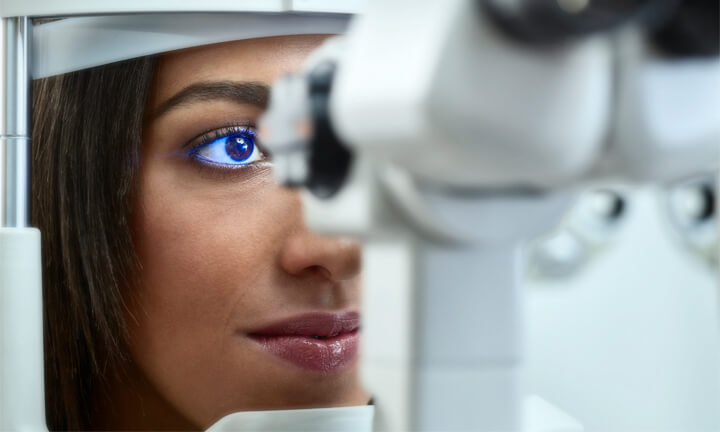 At a first glance, "vision screening" and "eye exam" sound like they might be the exact same thing. But the reality is, they are quite different and serve different purposes to help you maintain healthy vision throughout your life.
Vision screening—it's for the children
Also commonly referred to as an "eye test," vision screenings are brief examinations that look for potential vision problems and disorders. Often, they are performed by a primary care provider and do not require vision insurance. As its name suggests, vision screenings are simply that—screenings. They are not used to diagnose or treat vision problems, just merely detect them. If a potential problem is found, your provider will refer you to an eye care specialist.
Chances are, if you're reading this, you no longer have any need for vision screenings—at least for yourself. That's because vision screenings are mostly for children. As children grow, it is recommended that they be screened on a regular basis to ensure that their visual development is healthy and presents no potential issues. The American Academy of Ophthalmology and the American Academy of Pediatrics (AAP) recommend the following vision screening schedule:
- Newborns. All new babies should be checked for eye infections or other disorders.
- 6 months. Eyes and vision should be checked during a regular well-baby visit.
- 1-4 years. Eye and vision should be checked during routine visits.
- 5 years and older. Eyes and vision should be checked every year.
Eye exam—it's what you're thinking of
Whether you are referred to an eye care specialist by a primary care provider or make an appointment on your own, an eye exam is everything you'd expect it to be: eye charts, fancy equipment, and doctors repeatedly asking if something appears clearer or not!
But in all seriousness, a regular eye exam can play an important role in keeping your prescription up-to-date and helping to maintain healthy vision. It may surprise you to learn that a comprehensive eye exam can also help your doctor detect signs of health issues that are totally unrelated to seeing clearly! High cholesterol, high blood pressure, and diabetes can all manifest themselves in your eyes, and an eye care specialist will be able to recognize the signs.
Of course, the most common reason for getting an eye exam is to get new glasses or contact lenses. Unlike vision screenings, this is where vision insurance, like a VSP Individual Vision Plan, comes in handy. Aside from covering your eye exam, a vision insurance plan will also help you save on the prescription lens enhancements and coatings you need to see your best.
If you are not currently covered by a vision insurance plan, now is a good time to take advantage of an individual vision insurance plan starting as low as $13 a month. Get an online vision insurance plan quote from VSP Individual Vision Plans.
Your vision. Your way.
Not covered for vision? Get an individual plan, customized for you – including where you want to use it: at the doctor, in a retail location, or even online.