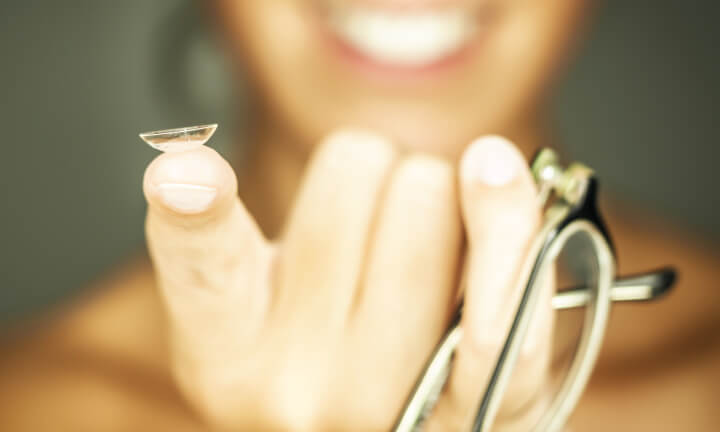 Online contact retailers are a dime a dozen nowadays. That makes it incredibly simple for you to find the best deal, but there are also some very important precautions to consider before putting your wallet before the safety of your vision.
Importance of an updated contact lens prescription
Depending on the state you live in, your contact lens prescription is legally required to be updated annually or every two years. If your state has yet to address the issue with their own law, then the federal requirement of once per year becomes the standard.
If you enjoy contact lenses already, you may wonder why your eye doctor has to check your eyes so frequently. The answer is simple—the health of your eyes. Your eyes and vision are constantly changing—even if only in small ways—and during the course of two years, that could mean significant changes to your vision. Long-term use of the wrong contact lens or eyeglass prescription contributes to even further degradation of the quality of your vision.
Plus, as physical features of your eyes change over time, the contacts that once fit properly could become dangerous to your eyes. You might even need a new contact lens material based on your eyes' moisture content.
The point is, your doctor's visit has an important purpose. It's to prevent you from experiencing more severe problems down the road.
Details of a valid current contact lens prescription
Online retailers are legally required to have the information contained within an updated prescription to fill your contact lens orders. This includes:
Your name
The date your doctor examined your eyes (examination date)
Date you receive the prescription (issue date)
Expiration date of your prescription
Contact details of the prescriber (name, address, phone number, etc.)
Power of prescription
Manufacturer and material of the lenses
Base curve specification
Diameter
Compare online retailers and costs when buying contacts online
It is possible to save a great deal of money on your contact lenses when you buy them online. Larger, well-known retailers are more likely to have efficient processing times and shipping, lower prices for higher volume, and an extensive inventory should you have a very rare prescription. Most importantly, they are generally the most reputable suppliers of your medical devices. But if you shop around a bit, even the smaller retailers might offer your prescription at a great price.
Buying in bulk will also help you save. For example, try purchasing your contacts for the entire year after receiving an updated prescription. But do not stockpile beyond the date the prescription expires. As already stated, this could pose serious risks to your eyes.
Staying safe after a purchase
Most online retailers are respectable businesses, but you should understand there are some that do not follow all the federal regulations. It is illegal for anybody to sell you prescription contact lenses without a valid prescription that is then verified by the retailer with the prescriber.
Do not accept any substitutions for your prescription, especially for lens materials and brands. When you receive your new lenses, simply verify that all of the information on the box is exactly the same as specified in your prescription. If you're ever in doubt, simply contact your eye doctor and have him or her verify their legitimacy.
If you are in the market for new contact lenses, use your VSP Individual Vision Plan. If you need to get a new contact lens prescription, schedule an eye exam with your doctor. If you don't have vision insurance, find out how VSP can help you save on your next eye exam and contact lenses.
Your vision. Your way.
Not covered for vision? Get an individual plan, customized for you – including where you want to use it: at the doctor, in a retail location, or even online.