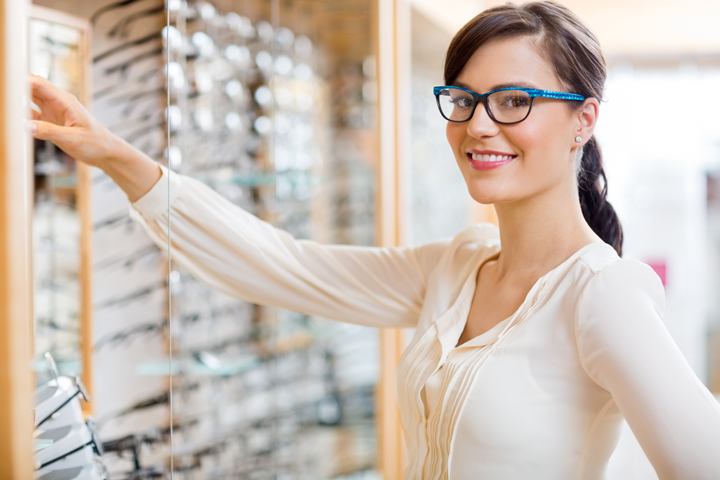 Frame allowances and copays? What does my vision insurance cover? It can be confusing! Part one of our most frequently-asked-questions about VSP vision insurance will illuminate these uncertainties.
How do I use my vision insurance?
It's easy! In four steps you'll be an expert. First, find a VSP network doctor using the online Find a Doctor tool. Second, schedule your first comprehensive eye exam and attend your appointment. Then, with an updated prescription from your doctor, use your benefits to purchase new eyeglasses or contact lenses. You can visit Eyeconic.com, which seamlessly connects your eyewear, your VSP insurance coverage, and your eye doctor's expertise. Plus, you'll enjoy a wide selection of stylish frames and lens enhancements to choose from. Finally, make sure to have an eye exam annually to ake advantage of your vision plan.
What exactly does my vision insurance cover?
Most VSP individual vision plans provide an annual comprehensive eye exam to ensure the health of your eyes and the clarity of your vision, especially as you get older. Typically, you will only need to pay a $15 copay for the exam.
Additionally, each plan has a frame allowance that you may apply towards the purchase of new prescription eyeglasses, contact lenses, or even prescription sunglasses. You'll even receive an extra $20 towards if you choose a featured frame brand. You'll also enjoy savings on lens enhancements such as the ones listed below. You can visit Eyeconic.com to browse the wide selection of stylish frames and lens enhancements to choose from.
Is my vision insurance effective immediately?
Almost. Once you've enrolled in your annual plan and made your first payment, you can choose to start your benefits as soon as the same day.
What happens if I can't find my vision insurance card?
Your vision insurance ID card, or member vision card, is not required to receive services offered by your plan. Simply give a VSP network doctor your name and they will organize the rest with VSP.
Nevertheless, you may prefer to have a member vision card as it contains a summary of your benefits and the relevant information to help you easily manage your vision benefits.
What is a copay?
When you visit an eye doctor, your vision copay is a fixed amount you pay for services. When you get an eye exam, you pay a copay and your plan covers the rest. Your vision plan identifies what your copays are for vision services. Oftentimes, it is $15 to see an eye doctor for an eye exam, but this may be different depending on where you live. It's best to check with your eye doctor when you schedule your eye exam.
Can I use VSP vision insurance online?
Yes, by creating your online account through Eyeconic.com. Eyeconic is the only online optical retailer that connects your eyewear, VSP insurance and eye doctor's expertise.
Which lens enhancements does my plan cover?
This varies by plan. But you can expect savings on all of the following lens enhancements:
- Scratch-resistant coating – a clear coating that protects your lenses from visible scratches that may impact your ability to see.
- Anti-glare coating – increases light transmission, reducing ghost-like images and reducing the amount of light reflected from the lens surface.
- Impact-resistant lenses – lenses made from polycarbonate materials that are 10 times stronger than glass and plastic lenses.
- No-line bifocal (progressive) lenses – line-free lenses where prescription strength gradually changes from distant to near vision.
- Light-to-dark (photochromic adaptive) lenses – light-reactive lenses that darken and lighten based on the amount of sunlight exposure.
- UV protection – a lens treatment that helps absorb the harmful UV light from the sun.
- High-index lenses – thinner, lighter lenses designed to improve comfort and wear ability for those with high prescriptions.
Is VSP vision insurance worth it?
We think so, and here's why. You'll pay as little as $13 per month, depending on where you live and which plan you choose, and from that you can save hundreds of dollars per year. Your plan provides you with an annual comprehensive eye exam, savings on all sorts of things related to the health of your eyes—including LASIK surgery, and a frame allowance to purchase new eyeglasses, contacts, or sunglasses when you need to update your prescription or daily style.
Ultimately, it's not just about the savings; it's also about your overall health. Eye care professionals are oftentimes the first to detect signs of various health conditions. Having an eye exam each and every year is just another way to maintain your health.
Hopefully, you feel much more equipped to get the most out of your vision plan's benefits and discounts to help keep your vision clear and eyes healthy, but if you still have questions about your plan, then you can speak directly with our knowledgeable customer service team at 800.785.0699. Our service center is open Monday through Friday from 7a.m. to 7p.m. Central Time. We're happy to do what we can to help you get even more from your VSP vision insurance plan!
Your vision. Your way.
Not covered for vision? Get an individual plan, customized for you – including where you want to use it: at the doctor, in a retail location, or even online.